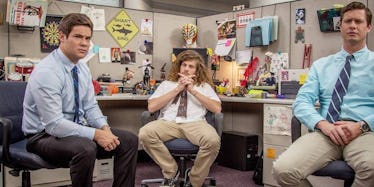 4 Easy Ways To Take Your Career To The Next Level By The End Of Summer
Comedy Central
It's August, and just because it's the Sunday of summer (ugh) doesn't mean you can slow down. September starts a huge surge in hiring and career opportunities, and you don't want to miss out just because you weren't prepared.
Want to get ready for the fall rush now? Here are four very easy things you can do to make sure you end your summer on a high note and start the fall months off ahead of the curve.
1. Show Gratitude To Summer Employers
Whether you worked a part-time job or internship or took on another opportunity during the past couple months, be sure to show gratitude to your boss and co-workers during your final weeks on the job. At the very least, this means writing heartfelt handwritten thank-you notes to people who helped you out.
If writing thank-you notes feel awkward to you (sometimes there's a fine line between coming off as sincere and coming off as robotic), here's a quick template to writing an authentic thank-you note every time:
[Name], I can't thank you enough for [write two-three things that person did]. My experience at [company] has been wonderful thanks to your hard work and dedication to making sure I felt like part of the team from day one, and I can't tell you how much I appreciate it. I definitely want to stay in touch, and thanks so much again! Best, [Your name]
And this definitely needs to be re-stated: Your note should be handwritten in a thoughtful card! No emails here.
2. Reach Out To Your Professional Contacts Before The Fall Rush
Fall is a busy time for many companies, so if there's someone in your network you've been wanting to meet up with or talk to, August is the perfect time to do it before his or her fall workload goes through the roof.
For example, if you've been wanting to ask a former colleague if her company is hiring entry-level marketing roles, it's better to grab coffee with her during a calmer time than when the September frenzy begins. Or, if you wanted to check in with a past boss about being your reference for fall job applications, reaching out now is the best way to go instead of feeling rushed a month from now.
Need help with crafting emails to networking contacts? Use our awesome email templates here. And if you want to be the MVP of professional networking, here are five common networking mistakes to avoid.
3. Add Summer Experiences To Your Online Profiles
Finishing up a great summer internship? Held a part-time job this summer? Make a note of it in your professional online profile and your resume.
Keeping your online presence up-to-date is not only great for your own reference, but you're also able to provide future employers with an accurate picture of your professional experience.
Additionally, be sure to not just add you worked somewhere over the past several months; include your responsibilities and impact, especially since your memory of your work is sharpest right after you leave a job or internship.
4. Research Opportunities And Create Goals For The Fall
Whether you're heading back to campus in the next month or taking on the working world, you definitely want to take this last month of summer to plan out what your career goals are over the next several months. What do you want to achieve before the new year? Anything you haven't done yet you've been meaning to? Make sure to take the necessary actions before this month ends.
By taking a little time this August to focus on your career, you're sure to set yourself up for success going forward into the busy autumn months. And if you're still not sure about what you want to do this fall, check out the millions of job and internship listings available for college students and recent grads!
This article was written by Lily Herman for WayUp.