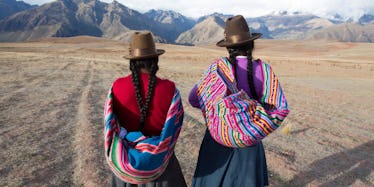 3 Places That Prove Traveling Is All About Stepping Out Of Your Comfort Zone
Traveling is a must during our 20s. It allows us to open our minds, grow as people and live our lives to the fullest. The majority of us are fortunate enough to let our inner traveler loose at an early age, although there are others who haven't yet had the chance. Others who sit on the fence, continuously contemplating whether they should venture out to the world of the unknown or stay exactly where they are and make use of their well-earned money elsewhere.
As a frequent traveler, let me assure anyone who considers him or herself a fence sitter, once you take that leap into the traveling world you will be far from disappointed. Take the opportunity to explore the world around you and take a look deep within yourself. You will discover a world filled with never-ending journeys, and you will be introduced to the exciting, thrill seeking adventurer version of yourself.
Sounds awesome, doesn't it? However, with so many destinations to choose from, and with each place alluring you, where the hell should you go? Deciding on which place that will give you the most out of your time away is far from easy.
Here are three destinations that will make you glad you've finally opened the book of travels:
1. Peru
Peru is a country filled with history, adventures and food that will delight your taste buds. There are endless activities this country has to offer that will satisfy absolutely anyone. Head over to the ancient city Cusco to learn the Spanish language or lend a helping hand to the disadvantaged as a volunteer.
Take on the four days hike through the Inca trail and follow the steps of the Incas to visit the breathtaking city of Machu Picchu. Have the ultimate culinary experience in Lima, and dig into the popular Peruvian cuisine, ceviche.
Explore the desert region of Ica and take up sand boarding down the gigantic, sand dunes of Huacachina and have a refreshing drink on the desert's oasis. Travelers from all over the world arrive in Peru not knowing what to expect, and are faced with breathtaking scenery and unforgettable experiences that remain stamped within them.
2. Thailand
An ideal destination for those who want to relax, party or engage in adventures that won't damage the bank account. Thailand is known for its tropical beaches, pumping nightlife and thrilling culture.
With two long coastlines and several islands alongside it, the typical beach bum won't be left disappointed. Check out the Phi Phi Islands and sink your toes between that powder-white sand, dip your bodies against the turquoise, glassy ocean.
And for the party-goers? Drink alcohol out of a bucket, partake in skipping a flamed jump rope and make memories that you'll forget the next morning at the infamous Full Moon Party in Koh Phangan. Experience the thrill of riding tuk-tuks, watch "ladyboy" performances and ping pong shows you'll never see back home. (You probably won't want to see again, but hey, it's an experience.) This country is full of character and crazy adventures.
Maybe taking a trip to a foreign country without knowing how to speak the local language can be too overwhelming for some. Fortunately, for those who aren't quite ready to take such a big step into the world of traveling, there's a destination that will satisfy every want and need without having to learn a new language or being confronted with cultures that are far from what you are used to.
3. Hawaii
Made up of six islands with their own character and hidden gems, Hawaii will make you want to quit your 9 to 5 job, pack your bags, buy a ticket and never return home. Explore the islands by trekking one of the many trails in Oahu, check out volcanoes and hike Kilauea Craters. Watch the captivating sunrise and sunset at Haleakala National Park in Maui and swim under hidden waterfalls scattered throughout the islands.
Entertain your thrill-seeking self by jumping off a plane to get the best view of Oahu with some adrenalin-driven skydiving, and take on the island beach life with road trips in search of the best surf breaks and beaches (although that won't be a difficult task).
For those of you out there who are yet to awaken your wild, inner traveler self. Stop contemplating, book a ticket, get yourself out of your bubble and experience the world. It will be the best gift you can ever give to yourself.