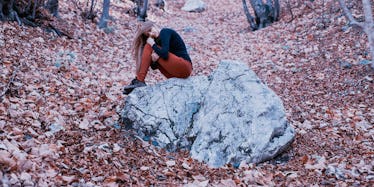 20 People Who Reacted Perfectly To Snapchat Deleting Best Friends
Stocksy
Yesterday, Evan Spiegel basically turned the technological world upside down when he removed the best friends list from Snapchat.
For those of you who have hobbies and spend your time productively rather than stalking people, you may be unfamiliar with what happened.
Your best friend list is created based on the frequency of how often you send and receive pictures from a specific person. The top three individuals are thus displayed in descending order for all your contacts to creep on.
What does creator Spiegel have to say?
We'll bring back BFs soon. A few higher-profile friends wanted to keep their usernames private - we'll come up with a better way to do that. — Evan Spiegel (@evanspiegel) January 27, 2015
So what did life look like before the update?
You would think people would be happy about this for the most part, but the reactions we have seen are hilarious, ridiculous and, of course, entertaining.
1. The person who wants this to be a permanent change (aka the cheater)
@evanspiegel NOOOOOOOO why??? It's the worst feature of the app.... — Cameron Briche (@Cameronbriche) January 27, 2015
2. Well, this is entirely too accurate
guys reaction vs. girls reaction to the new snapchat update pic.twitter.com/9NKY4gGXbJ — NORTH WEST (@Its_North_West) January 28, 2015
3. The guy who thinks his opinion is going to do something
@evanspiegel @Snapchat No, it's totally ok! Please keep it off! Or at least allow us the option to be able to turn it off/on. — Kayla (@YesImKayla) January 27, 2015
4. The person who knows exactly what Spiegel's real intentions are
Plot twist: snapchat brings back the friends list in like two days just to see all the cheaters who took advantage of the update — sexual (@sexuaI) January 28, 2015
5. The person who still doesn't know WTF is going on
the new snapchat update got me like pic.twitter.com/jAjc2rz50z — Girl Notes♔ (@GirlNotes) January 28, 2015
6. The awkward moment when this Amanda Bynes impersonator preached the truth
If snapchat not showing best friends will ruin your relationship then your relationship needs fixing already. — amanda bynes (@AmandvBynes) January 28, 2015
7. This goes out to all the insecure girls across the world
People can no longer view your "best friends" on snapchat! Feeling sorry for the girlfriends that will suffer from this... — Taylor Ray Holbrook (@TaylorRaysTweet) January 28, 2015
8. HOW STUPID DO YOU FEEL NOW, HUH?
How to get your best friend list back on snapchat: pic.twitter.com/PjKDX5JPNu — Behlul (@behlul_official) January 28, 2015
9. Is this the best or worst way to look at the situation?
The new Snapchat update is going to save so many relationships — Ashley Fern (@disco_infern0) January 28, 2015
10. This guy just hit the nail on the f*cking head!
Perks of being single: I don't give a damn about this snapchat update — Maverick Carnegie (@RunMav) January 28, 2015
11. Wait a moment, is this the reason behind the best friend elimination?
NO MORE BEST FRIENDS SO HOES SENDING NUDES TO EVERYBODY ON SNAPCHAT — PEGEE (@VH1PNUT) January 28, 2015
12. I guess this chick has never heard of Evan Spiegel
So it's clear a male made the last snapchat update — biannca rose (@BianncaRose94) January 28, 2015
13. Good for you for looking on the bright side
Phew! No one will know I'm a loser on @Snapchat now that the #BestFriends list is gone!!! #snapchatupdate — Jenny Hutt (@jennyhutt) January 28, 2015
14. Our generation is straight f*cked
This new #snapchatupdate just opened up a new world of trust issues — Nutella? (@nazandthat) January 28, 2015
15. This could get really awkward really fast
Hey, now we can snapchat that person from high school that we don't want people to know we talk to. — #SnapOregon (@snaporegon) January 28, 2015
16. GET A LIFE WOMAN!
Dear Snapchat, how am I supposed to know whose hooking up with who now — LT (@laurturn) January 28, 2015
17. Shout out to Snapchat friends making us look like social beings
thankful for the new snapchat update bc my snapchat best friends were a damn lie — mom (@Ii0ness) January 28, 2015
18. YOU HAD ONE JOB!
snapchat needs to forget about fancy stuff and let us take pictures with the volume buttons instead like seriously you had one job — Raphael Gomes (@raphablueberry) January 28, 2015
19. Whoever cares less wins
girls vs. guys point of view on no more snapchat best friends pic.twitter.com/xMtFZfSwVw — The P (@ohhewantstheP) January 28, 2015
20. Shout out to all y'all sending mass nudies
Snapchat is now a hoes paradise — Slightly Psychotic (@SlightPsychotic) January 28, 2015