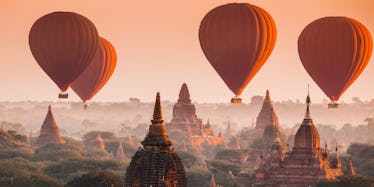 15 Countries Off The Beaten Path For The Broke And Bold Traveler
Shutterstock
So you've been to Thailand?
Here are the best and most affordable places for young and adventurous travelers to escape to next.
1. South Korea
For a Tokyo experience at half the cost, visit the trendy country of South Korea. Go for the ancient palaces, modern cities and friendly teenage locals who know more about Instagram filters than you do.
Recommended city: Seoul
2. Morocco
With influences from the Middle East, Spain, Africa and France, Morocco is arguably one of the most unique and mesmerizing countries in the world. Go for the night markets, camel treks and ornate design.
Recommended city: Marrakech
3. Slovenia
A stunning landscape of snow-peaked mountains and turquoise rivers, Slovenia is a surprisingly low-tourist part of Europe. Go for adventure sports, nature photography and to see postcard-worthy Bled Castle, located in the center of a lake.
Recommended city: Ljubljana
4. Canada
More than maple syrup and moose knuckles, Canada is a massive country filled with everything a nature lover could dream of. For the baby blue waters and snow-capped mountains you see on Instagram, visit the lakes in Alberta. Do it for the Insta.
Recommended spot: Banff National Park
5. Sri Lanka
A tropical paradise with spicy food and minimal tourism, Sri Lanka is at the top of many experienced travelers' favorite countries list. Go for tropical beaches (with equally beautiful Aussie surfers), cave temples, mouth-watering food and to meet courageous locals.
Recommended city: Kandy
6. Zambia
One of the safest and friendliest countries in Africa, Zambia is the ideal country for new travelers to Africa with a desire to experience a rich cultural experience. Go for one of the biggest waterfalls in the world, kind locals, roaming elephants and a life-changing experience.
Recommended city: Livingstone
7. Myanmar
A beautiful country of tradition, faith and history, Myanmar is a relatively uncharted country for the confident traveler. Go for the bucket-list hot air balloon ride over temples, charming monks and rich culture.
Recommended city: Bagan
8. Chile
Spanning the western side of South America, Chile is perfect for nature enthusiasts, city hoppers and hipsters alike. Go for the Patagonia region, which spans across southern Argentina and boasts some of the most incredible landscapes of dramatically high mountains and crystal clear rivers.
Recommended region: Patagonia
9. Laos
Full of waterfalls, monks and backpackers, Laos is the perfect country for the traveler looking for adventure, culture and a good party. Go for the tubing, dream-like landscapes and religious cities.
Recommended city: Luang Prabang for partiers and Vientiane for culture-seekers
10. Bolivia
A shockingly stunning inland retreat, Bolivia is one of the cheapest countries in South America to visit. Go for the chicken buses, nightlife in Cochabamba, the emerald green national park and to geotag yourself at Lake Titicaca (because sometimes we all still enjoy pre-teen boy humor).
Recommended city: Isla del Sol
11. Tanzania
A massive African country filled with top safaris, beautiful islands and a variety of cultures and religions, Tanzania has something to offer everyone searching for an African experience, in addition to the famous Kilimanjaro. Go for safaris in the West, tribes in the North and island retreats in the East.
Recommended spot: Zanzibar
12. Nepal
After an earthquake in 2015 that killed thousands of people, Nepal is still getting back on its feet, which is precisely why this is the best time to visit (less tourists). Incredibly affordable and full of culture, this Himalayan country is full of colorful prayer flags, stunning mountains, tiger-filled national parks and grateful tour operators.
Recommended city: Kathmandu
13. Jamaica
Before weed is legalized in all of America, you may as well take a trip down to Jamaica. Go for the Bob Marley museum, stunning tropical beaches, friendly Rastafarian locals and something green.
Recommended city: Kingston
14. Jordan
Notorious among world travelers, Jordan is a safe Middle Eastern county filled with a high number of world wonders. Go for the tea with friendly locals, pink sandstone carved temples and a swim in the Dead Sea.
Recommended city: Petra
15. Colombia
For a country with beautiful women, Pablo Escobar vibes and unforgettable food, take a visit to Colombia. Go for the unforgettable experiences, stunning old towns and tourists who appreciate Netflix's "Narcos" just as much as you do.
Recommended city: Medellín