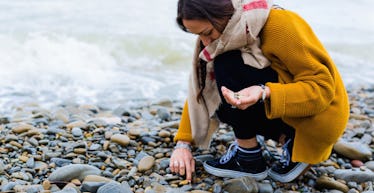 Cancer Sucks: 10 Ways You Can Do Your Part To Spread Awareness And F*ck Cancer
Cancer sucks; it ruins lives and is killing us all. Last summer, we met the incomparable Yael Cohen, who is founder and CEO of the charity F*ck Cancer, for a weekend of debauchery in Las Vegas where she taught me just how easy it is to personally f*ck cancer.
I made a bet to see who could raise more money for charity on the Vegas Strip and while she went with the more genuine approach, I opted for the "I'll do anything for 20 bucks" model.
Naturally, hilarity ensued. So without further delay, here's how I f*cked it and how you can, too.
Perform any of the stunts in the video or create your own – do something truly f*cked in the name of F*ck Cancer. So, throw in whatever you can and donate at www.letsfcancer.com. Here's how I did my part:
10. Hitchhike.
When my sh*tty old RV broke down halfway to Vegas, I decided to make friends with some of the locals and before I knew it, I was riding in the back of a pickup truck until I hit the strip. And, I promptly donated the money I saved on a rental car to charity.
9. Chug Hot Sauce.
Unfortunately, my first challenge meant dieseling several shots of Tabasco from the bar at the Flamingo. But, money is money — even if it's covered in bright orange puke.
8. Take The Jump.
Jump off of something huge. I took the plunge 100+ stories from the top of the Stratosphere. Just make sure when you do it, there's a parachute, bungee cord or no witnesses.
7. Amateur Boxing.
Take a punch from a really terrifying looking guy. Or not, you pussies. Bigger guys tend to be willing to pay to punch someone, especially if you're a little guy, like me, who likes to run his mouth.
6. Get Thrown Out Of A Club.
I got tossed for trying to give breast exams to a couple strippers, but there are plenty of ways to get thrown out, so get creative. Remember, bruises heal — unless they're on your ego.
5. Get Molested In The Street.
I bumped into a group of "nurses," (who, in hindsight did not show any sort of ID) but were willing to pay to screen me for testicular cancer. The best part? Lump free!
4. Get Undressed.
Get into your skivvies to pose with some tourists, and while you may not get any donations, you may get some numbers out of it.
3. Get Your Prostate Checked.
Believe it or not Vegas is a real city, which means it's full of real doctors, who have probably probed at much worse than your prostate. Challenge your friends to get early prostate exams — just don't give them to each other.
2. A Real Vegas Shotgun Wedding.
No Vegas challenge is complete unless it ends with Elvis reading your wedding vows in a seedy chapel. I sh*t you not, it happened.
1. Have The Chat.
The most important thing we learned from our weekend with Yael Cohen was the simple, yet true statistic: 90 percent of Cancer is curable if caught during stage one. This means that the number one thing you can do now to f*ck cancer (in addition to helping support this wonderful charity) is to call your parents.
Just like they had the awkward sex talk with you a few years back, now it's time for you to return the favor and have the cancer talk with them. Make sure they get screened immediately and regularly.
PROOF: on.ora.tv/1rhOG0g
Photo Courtesy: We Heart It