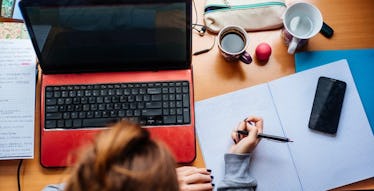 10 Snacks To Take On-The-Go So You're Not Starving In Between Your Classes
There's really nothing quite like the hunger pains of a college student stuck on campus and scrounging for sustenance. The truth is, cafeteria buffets and to-go counters aren't exactly serving up a wide variety of healthy options for on-the-go grazing. College students often wonder how to pack the best on-the-go snacks to eat between classes when faced with these slim pickings, and the easy solution is to pack your own stash of nutritious snacks to make sure you're not starving in between classes.
Of course, compiling your personal snack selection has its limitations as well. For starters, you want to choose foods that will taste good, but have a decent amount of nutritional value as well. The trick is to accept your cravings, give in to a little sweetness, but ultimately pair that sweet with sustenance. You also want to be mindful of where and when you're eating. This will tell you how much of a snack to pack in order to properly fill your belly.
If you're often the one left empty-stomached in between classes, skipping readily available snacks because there's not much to offer, here are a few fool-proof combos to curb your cravings and get you through the day.
1. On-the-Go Apple Slices & Nut Butter
There are two ways to make this combo work when you're in a hurry. The first option is to meal prep the night before by coring and slicing an apple, tossing the pieces into a ziplock baggie, and pairing the fruit with a packet of nut butter like Artisana's single-serving squeezes.
The second is a little more involved, but it's also Insta click-bait. Core your apple as per usual, but instead of slicing the fruit into half-moons, turn it on its side and cut it into circular slices. Next, sandwich a generous amount of nut butter between two slices, and much on-the-go.
2. DIY Trail Mix Treat
I'll more than likely pass on pre-packaged trail mixes because I'm naturally a picky eater. Make this snack yourself for complete control over the ingredients, combining nuts, seeds, dried fruit, granola (Purely Elizabeth's probiotic pieces will add the extra boost of gut-friendly nutrition), and/or chocolate pieces into a plastic baggie or to-go container.
3. All The Balls
You've no doubt seen a variation of these spamming your Instagram feed in the past few months. No-bake energy balls are super trendy right now, but they're also super tasty so instead of fighting the fad, join in!
There's green ones and sweet ones, healthy bites and pure indulgences. Popping one or two between classes is sure to give you the energy boost you're looking for.
4. Banana Roll Ups
These are great to snack on en route to your morning sessions or when you're just one class away from freedom (or a meltdown). Take a tortilla and spread on either your favorite nut butter or fruit preserve, roll in a banana. Slice into even pieces for quick bites between one lecture and the next.
5. Healthy Hot Chocolate
Cozy, comforting, and super appropriate for the fall season, drown your back-to-school woes in a thermos of hot cocoa that gives your brain a major boost. Combine Bulletproof's Brain Octane Oil with grass-fed butter in a cup of organic hot coco for pique performance that runs on healthy fats rather than processed sugar.
6. Better-for-You Energy Drinks
Believe it or not, they exist!
Bubblies like KeVita Kombucha and Zola Energy Drinks are made from organic ingredients so that while your body gets that energy buzz it craves, the effects are natural, healthy, and won't lead to an inevitable crash.
7. Flavor-Packed Popcorn
Another super easy snack when you're in dire need of a quick fix, pop or buy pre-packed corn, scoop a cup or two into a baggie and spice things up with cinnamon, salt, garlic powder, or even Trader Joe's Everything But the Bagel (trust me on this one). Spices have way more health benefits than buttered kernels, and, bonus, they're a thousand times less messy.
8. Banana, Nuts, and Cheerios
Pour half to a full serving of traditional Cheerios in a to-go container and add a combination of chopped almonds and sliced banana to the mix. This nostalgic snack is loaded with health benefits (potassium, protein, and fiber, to name a few), and is super addicting with all the flavors and satisfying crunch.
9. Chocolate Oats
Overnight oats are a heaven-sent snack because they literally cook themselves while you sleep. All you have to do is assemble.
I follow the 1:1 ratio for this recipe and general use almond milk as my liquid base. Sprinkle in some cinnamon with a dash of vanilla extract before mixing it all together and placing it in the fridge overnight to soak through. In the morning, top with organic chocolate pieces (the Eating Evolved bars are a game changer), and go.
10. Greek Yogurt Bark
I've always associated bark with peppermint and Christmastime, but apparently greek yogurt bark makes for an awesome snack in-between meals. This snack only requires about ten minutes prep time, but needs to be kept in the freezer for roughly three hours at the minimum to solidify.
To make your own, combine greek yogurt, your choice of natural sweetener (maple syrup, honey, or agave work perfectly), and you can either mix in chocolate chips, fruit, coconut shavings, etc. or use them as toppings. Freeze until firm and grab as you go.