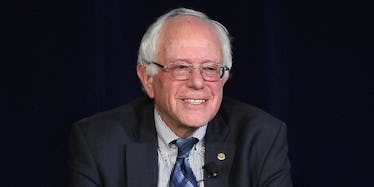 Political Speed Dating: Who's Who In The 2016 Presidential Election
Getty Images
With the 2016 presidential election heating up, the candidates are getting more and more coverage.
These politicians or business tycoons (eyes on you, Donald) are vying for our vote to be the commander-in-chief of this country.
This is big, people.
I, for one, have questions that aren't being answered on the big stages of political debates.
I'm sick of hearing the candidates rant about something we've already heard them talk about on every radio station, in every interview and with every TV personality.
If you're anything like me, you want to know these candidates.
You don't want the details in an "I read their Wiki bio" kind of way, but in an "I know their top picks on Netflix" kind of way.
Do you feel me?
Based on what we already know about these candidates, here is what we can expect from them on a more personal level.
(Disclaimer: These are all made in good fun, unless they're true. In which case, I totally called it.)
Marco Rubio
Born: Marco Antonio Rubio
Birthday: May 28, 1971
Party: Republican
What You Should Know: Marco prides himself in being the son of two Cuban immigrants and experiencing the American Dream firsthand.
According to his campaign site, Mr. Rubio wants to "get government out of the way of agriculture," keep firearms in the hands of law-abiding, responsible gun owners and attacks higher education issues.
He may or may not use his presidential powers to change the American national animal to a gator in honor of the University of Florida.
Favorite Color: Red, just like the red-hot American blood flowing through his veins he can't stop talking about.
Ideal Date: Watching the older candidates spend hours in the makeup room before debates, while he only needs mere minutes.
Who needs makeup when you have young, radiant skin like his?
Top Netflix Pick: "Saved By the Bell." High school in the '80s takes you back, doesn't it? Marco is Washington, DC's very own AC Slater.
Hillary Rodham Clinton
Born: Hillary Diane Rodham
Birthday: October 26, 1947
Party: Democrat
What You Should Know: A self-proclaimed "pantsuit aficionado," Hillary has taken a strong stance on women's issues, focusing on closing the wage gap, protecting Planned Parenthood funds and more.
As former first lady married to previous president, Bill Clinton, she started working on healthcare reform and doesn't plan on stopping now.
Hillary prides herself on making it on her own (with the help of her husband).
Favorite Color: Yellow. Nothing says "look at me" like a pantsuit brighter than the sun.
Ideal Date: A nice night by the fire with her husband, Bill, spent plotting their next step toward taking over the world.
Top Netflix Pick: "Parks And Recreation." Leslie Knope just gets it.
Donald Trump
Born: Donald John Trump
Birthday: June 14, 1946
Party: Republican
What You Should Know: Donald is a businessman with over 7 million followers on social media, and he's just really proud of that.
According to his campaign website, he plans on getting veterans "convenient access to the best quality care."
Not exactly according to his website, Mr. Trump also plans on giving Mexico the middle finger as it gets up the last brick on that wall it'll build, pay for and totally respect.
Favorite Color: Gray, like the wisps of his hair and the stone-cold gaze in his eyes.
Ideal Date: Discussing how to make things great again over authentic Mexican food.
Top Netflix Pick: "LOST." Those plane-crash victims didn't belong on that island, so the island picked them off one by one, just the way it should be.
Bernie Sanders
Born: Bernard "Bernie" Sanders
Birthday: September 8, 1941
Party: Democrat
What You Should Know: The Bern is the longest-serving independent member of Congress in American history, and your favorite little socialist.
He is opposed to sending troops back overseas, in favor of lowering prices of prescription drugs, and dedicated to cleaning up the environment.
He's popular with the kids nowadays, just like that slightly weird, but mostly amusing old man at family reunions.
Favorite Color: Green. Lush, potent, legal green
Ideal Date: Long, slow walks on the beach. No, seriously slow down. He can't walk that fast.
Top Netflix Pick: "Always Sunny in Philadelphia." Get some of that green goin', turn on some "Always Sunny" and you're set for a riot of a night, am I right, Bern?
The next Democratic debate will be held on December, 19 in Manchester, New Hampshire (ABC).