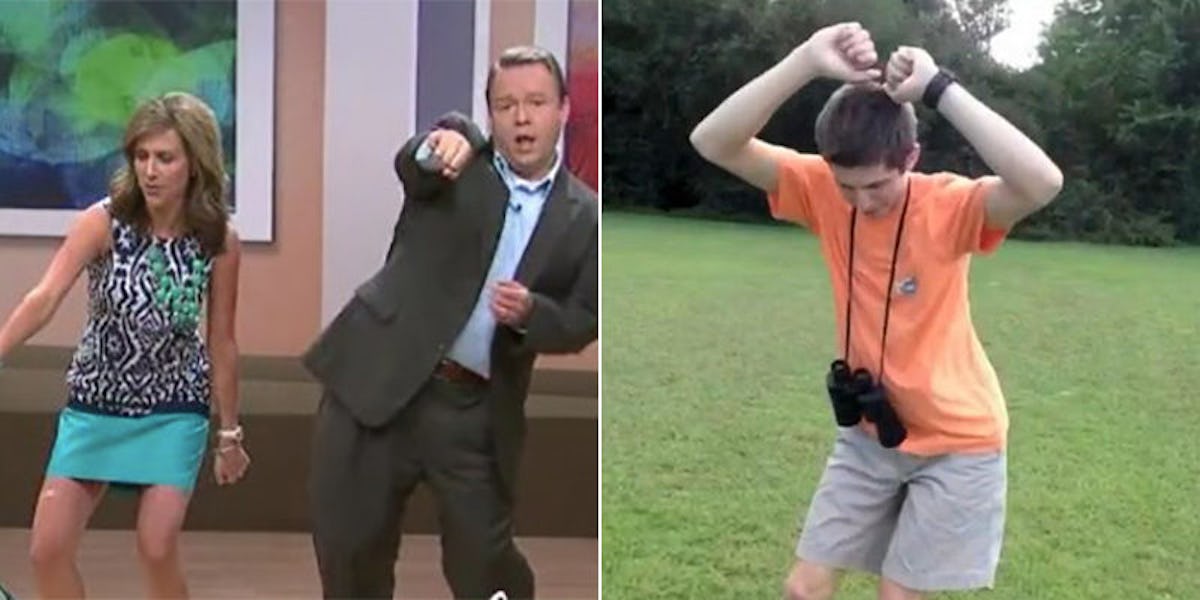 These Are All The Dances Awkward White People Totally Ruined In 2015
It has really been the year of viral dance trends.
It's also been the year of awkward white people killing them all (not in the good way), constantly creating the need for new dances.
Now, this is not to say all white people are incapable of moving. Every now and then, some will pull it off.
But for the most part, there's just a lack of swag emitted when most attempt.
It's a sad trend we've seen time and time before but for the love of God, will these people just chill already?!
White people really got behind "The Whip" this year...
WHITE PEOPLE RUIN EVERYTHING pic.twitter.com/pIw9tuaPE1 — WSHH FANS (@WORLDSTARNOW) November 3, 2015
...but there's just something that seems off about it.
You see, it's just not organic for some reason.
Nobody made it more awkward than this kid here, though.
This absolutely needs to stop ASAP.
This is to give you some perspective on how you look:
Of course, with "The Whip" comes the "Nae Nae"...
...which has been especially difficult for white people to pull off.
When white people try to whip and nae nae at at party pic.twitter.com/vjMqdlxi0g — ♛ᎬᎪᏃᎽ IÑFÃMOUS™♛ (@InFamousOF) August 15, 2015
Keep the damn kids out of this, OK?!
Even white moms had a hand in all this.
The cultural miscommunication is outstanding.
This wasn't even a dance and they still ruined it!
Then, of course, there's the motherf*cking "Dab."
This was finally the one dance white people couldn't mess up...
...but they did, dammit.
Save white people from trying to dab pic.twitter.com/ccz4SEWjXy — 6⃣ (@btagswag) November 29, 2015
We were wrong.
White people dab to anything pic.twitter.com/dci8yzjXkm — Gabbs (@missgabby1297) November 26, 2015
So wrong.
OK, enough before your ass gets concussed!
Almost gave himself a concussion tryna dab. White people really killed it pic.twitter.com/hROu6ABKaw — Malcolm Aux (@TeflonVaughn) November 20, 2015
This makes us reflect on others, like the "Shmoney Dance"...
...because that sh*t was getting out of hand.
WTF type of parenting is this?!
Of course, Donald had to get in on that "Hotline Bling," too...
...and frat bros wanted to get in on the #NowImMad craze.
Stop, please.
white people ruin everything. @baileybooker12 @LathanFalls4 @WjN32 pic.twitter.com/nfRxEVrn8M — cindy lou who ❄️ (@abbbbylee) November 4, 2015
This pretty much sums it all up, folks!
Hopefully, your holiday dinner doesn't end up like this.