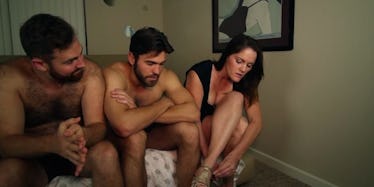 This Video Perfectly Explains A Man's Struggle To Have Sex While Drunk
Viagra and alcohol are both technically blood thinners, so getting drunk should theoretically have the same effect as popping a pill meant to facilitate the late-night activities drinking often coincides with.
However, if you ever tried to put this theory into practice, you were likely met with severe disappointment and a partner who regrets not cutting you off earlier in the night.
You might be able to have a couple of drinks without a problem, but when you hit the point where you shouldn't be operating motor vehicles or heavy machinery, "whiskey dick" becomes a very real problem people have to deal with.
Rob Mor outlined one of those fateful nights as the titular phallus in "Diary Of A Drunk Boner," which may hit too close to home for anyone who's been in this situation and remembered it the morning after.