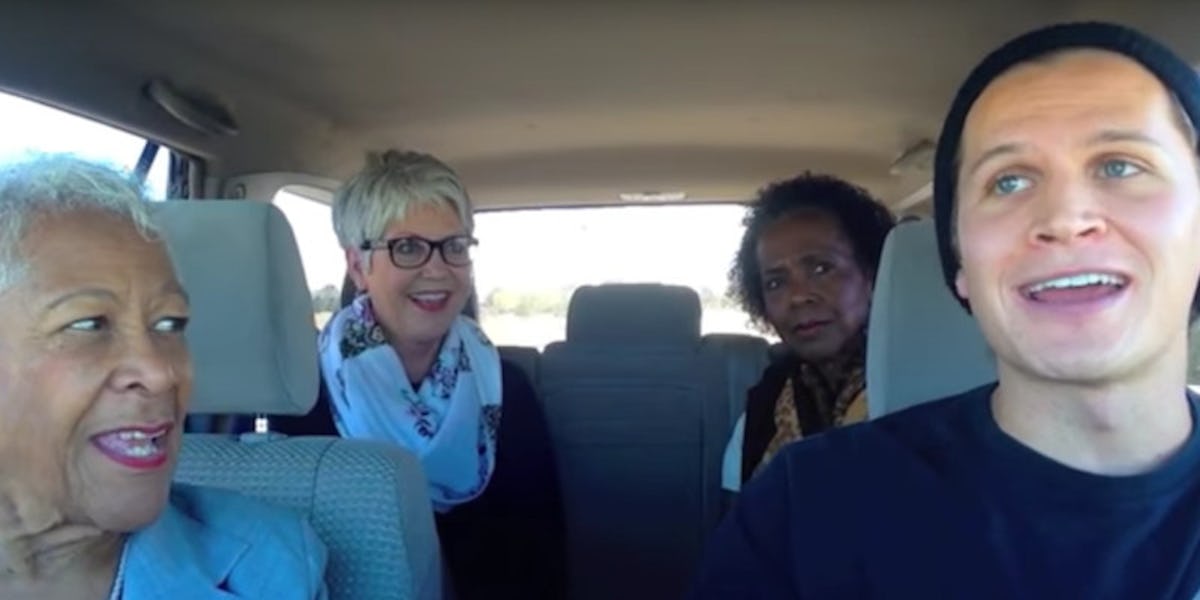 Uber Driver Had The Best Time Rapping To A Car Full Of Confused Grandmas
YouTube
Ever wonder what it'd be like to become an Uber driver and randomly belt out lyrics over a smooth rap beat for your passengers?
No? Just Uber driver Dylan Montayne? Cool.
Well, Dylan doesn't back down from a live performance. Ever. The YouTuber decided to install a camera in his car and film himself rapping for three older women. I'll admit, someone should probably sign this guy.
The video's description reads,
Elders react to rapping Uber driver Dylan Montayne as he performs entire song for them in the car.
The video, which is simply titled "Uber Driver Raps for Car Full of Babes," begins with Dylan and the three women sitting in his car.
Mr. Uber Driver then announces that he's going to perform something he's "been working on." The beat begins to play, and one of the women in the backseat says she loves it already.
The two other women? They're pretty confused (and secretly REALLY impressed)...
Can you blame them? I mean, when was the last time you hopped into an Uber and witnessed a whole song performed live right in front of you?
Not to mention, Dylan basically tells his entire life story to his passengers in under three minutes. Maybe he should charge extra?
Once they finally realize that this guy's actually got skills on the (invisible) mic, they all start grooving to the beat and bobbing their heads. SUCCESS!
This isn't the first time (hence the "part 2" in the title) that Dylan's served a fresh freestyle for his Uber passengers.
Back in May, the YouTuber had an even bigger audience of young women in his car who were able to witness his smooth lyrical skills over the "Electric Relaxation" instrumental made famous by A Tribe Called Quest.
Check out the new video above!
Citations: Uber Driver Bro Raps For A Car Full Of Grandmas, Spits Hot FIRE (BroBible)