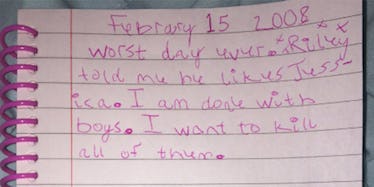 This Teen Posted Her Diary From When She Was 7 And The Entries Are Hilarious
Madie Cardon
Most elementary school students haven't lived long enough to experience any real adversity, so it's very possible something most people would consider inconsequential is genuinely the worst thing that's ever happened to someone whose age hasn't cracked double digits.
Take the case of a 7-year-old who used her journal to document the bout of "deppresion" she fell into after her first brush with unrequited love, a saga that involves a hastily discarded Valentine's Day gift and a boy who had the nerve to chase other girls on the playground.
This gripping tale recently surfaced after the now 16-year-old Madie Cardon decided to browse through the diary she kept in elementary school and rediscovered the love triangle that existed between her, her crush Riley and Jessica, the girl who threatened to ruin everything.
Cardon recently tweeted a few photos of the entries she jotted down over a three-day period in 2008 to give some insight into the drama surrounding her Valentine's Day that year.
If you want a story with passion, heartbreak, blackmail and homicidal thoughts, look no further than this.
found my diary from when I was 7 I'm dying pic.twitter.com/M57wJhsmFd — мadie (@madiecardon) May 16, 2016
All is fair in love and war.
Riley! How could you?!?!?!?
That seems like a reasonable reaction.
Citations: People Are Obsessed With This Teen's Angsty Diary From When She Was 7 (BuzzFeed)