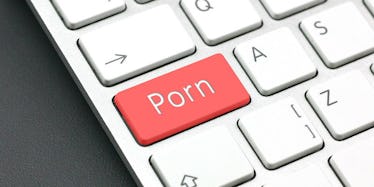 8 Super Gross Terms Guys Know Because of Porn That Girls Might Not
Getty Images
When you go on a porn site, you see some sh*t.
I remember the first time I looked at porn, when I was like 12, I just wanted to see some cool boobies.
Unfortunately for 12-year-old me, "cool boobies" isn't really a category. And the homepages of most porn sites aren't really trying to ease you into the experience.
You learn two things very quickly:
The world is a disgusting, sex-crazed mess.
You're just going to have to get used to scrolling by fisting videos.
Seriously by the time they are 13, every boy in America has become pretty much desensitized to stuff that would make their grandparents throw up on themselves. And speaking of throwing up on themselves, yeah, that's a thing most guys have accidentally seen, too.
Along the way, by osmosis, you pick up some terminology.
Now, yes, I know women look at porn also. But I don't think it's a big secret most of the porn industry is catered towards men and that men make up the vast majority of porn consumers. So please no comments that say "GIRLS KNOW ABOUT BUKAKKE TOO!" because I know some of them do. But almost all guys do. That's the key difference.
Also, bragging about knowing about bukkake is like bragging about knowing how to make anthrax.
OK, let's get started.
Creampie
This, ladies and gentlemen, is a word used to describe when a man ejaculates inside of a woman. I like to think the person who first came up with this term was eating an actual creampie one day and a cartoon light bulb turned on above his head.
This one is the one that actually took me the longest to understand. I mean, it's pretty abstract. I get the cream part. But, like, where is the pie? Are vaginas pie? Someone please help.
DP
In the film world, DP means "Director of Photography." In the porn world, it stands for "Double Penetration." That is, when a woman is "penetrated" (possibly the grossest word in the English language right now) by two guys.
Isn't life weird?
Big Naturals
Okay, this isn't a "gross" term, really -- but it makes the list as a term guys learn from porn that most girls don't know. It means big, non-fake boobs. But it'd also be a great name for non-GMO oranges.
Bukkake
This term, hailing from sex-mania capital of the world Japan, is used to describe a video that involves one woman and a dozen wieners drenching her in a substance that once was just used to make a new life.
I have never actually watched one of these videos because I get too worried everyone is going to slip and fall, but I hear they are like staring into the mouth of a shark as it eats you.
Pearl Necklace
One of the more poetic examples of porn terminology. This expression refers to when a man ejaculates on a woman's chest area and it resembles a string of pearls. Considering the fact real pearls are just clam dookie, this one kind of makes sense. After all, an actual pearl necklace is just fancy poop on a string.
Hentai
We return to Japan for this one. What do you do when your sexual fetishes begin to defy the laws of physics and biology? The answer: Turn to cartoons. Basically, hentai is anime with sex. And I'm using the term "sex" very loosely here.
There is A LOT of VERY f*cked up stuff going on in hentai, including, but not limited to, a genre called "tentacle porn," wherein a cartoon girl is -- ugh, how did I get myself into writing this article -- f*cked by, you know, a bunch of tentacles.
Yeah, that's a thing I just know about because I'm a boy. Seriously, you just pick this stuff up whether you like it or not. I swear to you I am not secretly an octopus.
Money Shot
This one is simple: It is the moment in a porno where the semen finally appears.
It's like Chekhov's gun (the literary rule that if you see a gun in the first act, it should be fired in the second or third act), but, you know, with a big boner (Chekhov's schlong).
Golden Shower
Another poetic, gross term. This is, I'm just going to say it, when someone pees on someone else.
Now, I have never seen a video when someone pees on someone else. But I know that term. I have no idea how, but I do. And now, so do you.
Well, that's that. There are many more. But I need to go throw up now. And no, not in a hot way.