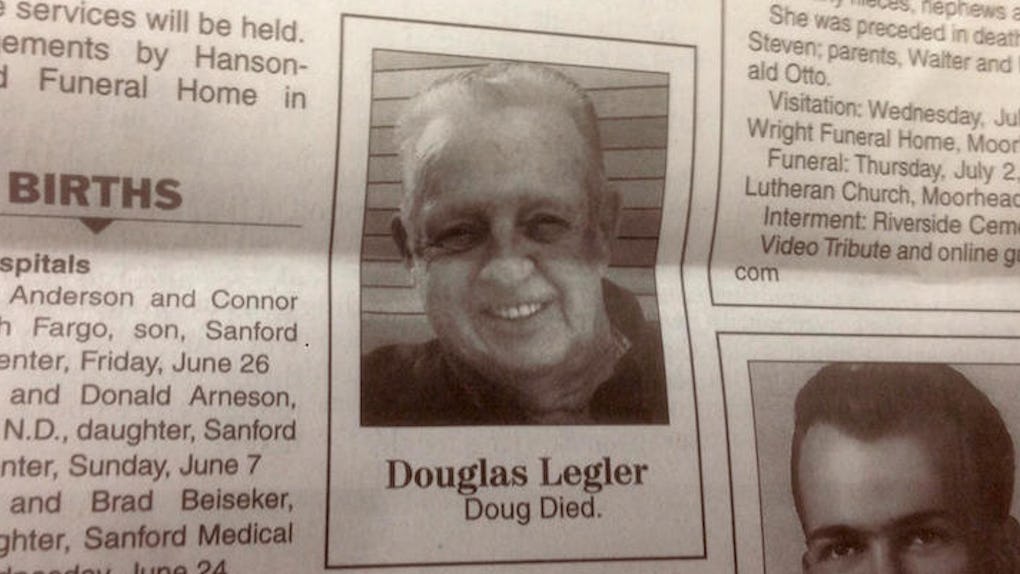 The Forum Newspaper
Man Goes Out With A Laugh And Leaves Behind The Perfect Obituary
For those who don't know, Doug died.
Doug Legler is a legend.
While most people look at an obituary as a way to leave one final reminder to the world of who someone was and the legacy he or she left behind, Doug Legler opted for something a little more to the point.
The obituary -- which just reads, "Doug Died "-- ran in The Forum on July 1 and is probably the best obituary of all time.
Legler's daughter told INFORUM Doug, a Fargo native and man who "once placed second in a talent show" as a singer, used to say he didn't see the point in leaving a wordy obituary behind.
She explained,
(Other people's obituaries) would say, 'He was the president of this, a director of this' and Dad would say, 'What, couldn't they hold down a job?'
Doug's right; his obituary was the best way to leave this world.
I feel like I know this guy a lot better than I would know anyone else who put his or her full life's transcript in the obituary section.
I never met Doug, but I know he probably enjoyed beer, doling out high fives and having people yell "LEGLER!" when he walked into a room.
Other dead people, step up the obituary game.
Citations: Doug died Fargo man has the last laugh (InForum)