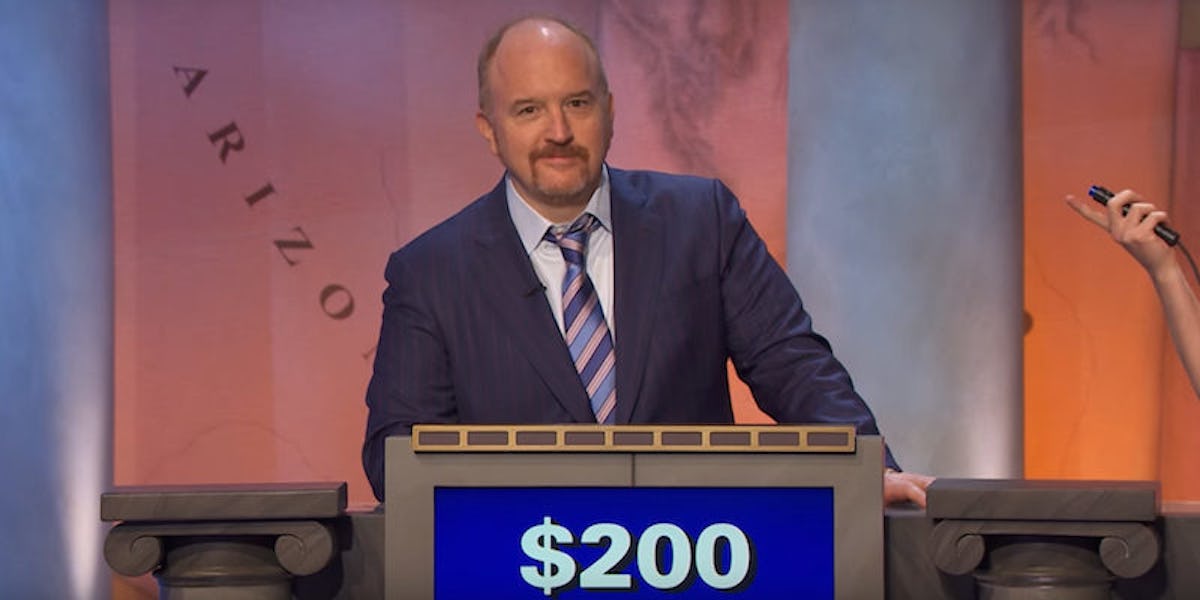 Louis CK Hilariously Won 'Jeopardy!' Against Two High-Profile News Reporters
NBC
"Jeopardy!" -- or as it is more commonly known, "The Show That Reminds You You Don't Actually Know Anything" -- does this thing each year called "Power Players Week." Basically, it has journalists and celebrity smart people play the game, and we get to see how ill-informed our journalists are.
Yesterday, Louis CK faced off against Jonathan Capehart from The Washington Post and Kate Bolduan from CNN, and because he is apparently the most talented man since Jesus' dad, he won -- by a lot.
Being the only comedian on stage, you'd think he'd try to tell some jokes or, at least, be a little lively, but Louis seemed to have seen a lot of "Jeopardy!" in his lifetime as he did a very good impression of an awkward, cheerful contestant who was just excited to be there.
Just listen to him explain how he rigorously prepared for this battle of the minds.
The journalists, on the other hand, used this opportunity to do their own impressions of two very manicured, beautiful people on their third audition for "SNL."
In the end, Louis won 50,000 dollars. Unfortunately (considering he has claimed his new show "Horace and Pete" put him in debt), all proceeds went to F*CKING charity... Kidding.
The charity he chose is called the Fistula Foundation, and it is pretty amazing. The foundation helps mothers in Africa and Asia who have suffered obstetric fistulas, an injury incurred during childbirth for which they are often shunned.
The surgery needed to fix the problem is simple, but many of these women don't have the resources to pay for it.
As the official "Jeopardy!" Twitter account explains in a sort of hilariously blunt way,
Louis CK cares about women in Africa & Asia who suffer from fistulas.
Citations: Vulture