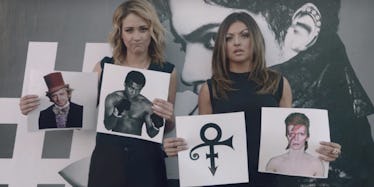 This Parody Of Lady Gaga's 'Million Reasons' Shows How Awful 2016 Really Was
YouTube
Let's face it. The year 2016 has had more celebrity deaths, societal malaise and general awfulness than any other year I can remember (or was ever recorded by humankind).
And if you somehow needed more proof of this fact despite the recent passings of both Carrie Fisher and her mom Debbie Reynolds in a two-day span, look no further than this (nearly) shot-for-shot parody of Lady Gaga's "Million Reasons."
The parody, written and performed by Jaclyn Marfuggi and Elite Daily's Gabi Conti, proves there are about a million reasons to let 2016 go.
The fact Trump supporters felt Hillary's email scandal, for which she was cleared of all wrongdoing, was anywhere near the sheer repugnancy of our president-elect's bragging about sexually assault shows that 2016 was a yearlong garbage fire.
Sure, we had "Fuller House," but come on -- was "Fuller House" THAT great?! No. No, it was not.
OK, I'll admit the Cubs winning the World Series was the best thing to happen all year. But was that enough to mend our broken souls? Absolutely not.
DON'T EVEN GET ME STARTED ON WHAT 2016 DID TO KANYE. I'LL NEVER FORGIVE YOU, 2016.
NEVER.
If we put all the celebrities we lost this year in this shot, the camera would have to pan for 214 miles.
Rickman, Michael, Fisher, Reynolds... What more does the Lord of the Underworld want from us mortals?
Can someone call ClassPass and see if they're OK?
WHERE DID YOU GO, CLASSPASS?!
Sure, I guess we could take some solace in the fact we received a new John Mayer song...
...if that new song were actually good and not passably mediocre.
EFF! *claps* THIS! *claps* YEAR! *claps*
Finally, here is Lady Gaga's "Million Reasons" as a reference for how spot-on the above parody is:
Now, 2016... please get the hell away from us.