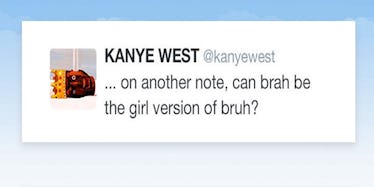 Can You Guess How Many Of These Tweets Are Really From Kanye West?
To call the month that led up to the possible release of Kanye West's new album "eventful" would be like saying Kanye West can be "slightly outspoken at times."
Over the past 30 days, the most polarizing man in music managed to pick (and squash) a fight with Wiz Khalifa, have his preference for butt stuff become a topic of national conversation and establish himself as the greatest super villain in the Taylor Swift universe.
He also announced multiples changes to the name of the album, which was eventually called The Life of Pablo upon a release that might still be in progress. And none of us would have known about any of this if it wasn't for the Internet's least valuable source of information: Twitter.
Kanye has tweeted (and subsequently deleted) a lot of things since January, and the majority of snippets from his stream-of-consciousness rants start to blend together after a while.
I took the time to curate some of my favorite recent Kanye tweets and then took more time to write a few of my own inspired by the rants that have repeatedly found their way onto my screen over the past month.
Do you really know your Kanye? You're about to find out.
1.
2.
5.
6.
7.
9.
10.
11.
12.
13.
Real: 1, 2, 5, 7, 8, 11, 14
Fake: The ones that aren't listed under "real," and 17 is technically half fake.