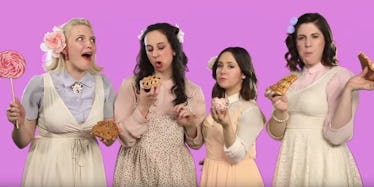 This Hilarious Parody About Being Body Positive Is Actually Perfect (Video)
Pop Roulette is here to show you how to love your body, unless you are skinny, then you can go write your own song, TBH.
The latest video from the musical sketch comedy group that brought you "Gay Scarf" (you're welcome, Brooklyn) and "Dress Like A Pedophile" (again, Brooklyn, you're welcome) tackles body positive anthems in the spirit of Meghan Trainor and the general tradition of selective self-praise.
If you've ever wished someone would hammer home the "Big Is Beautiful" mantra with zeal bordering on physical violence, but not actually achieving physical violence, yet definitely coming right to the precipice of physical violence, then this is your summer anthem.
Join the ladies of Pop Roulette and, in the event you are indeed a size 4-6, love your body no matter what anyone says.
Repeat after them:
I'm not my pants.
Well put, ladies, from a woman who isn't wearing pants right now, but might, someday.