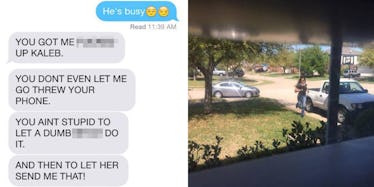 Guy Texts His GF Pretending To Be Another Girl And She Loses Her Sh*t (Photos)
Imgur
Half the fun of being in a relationship is figuring out just how much tomfoolery your partner can tolerate before you suddenly end up single.
Yesterday we saw a man who has no fear of death tempt the fates by jokingly proposing to his girlfriend, but that's far from the only way to get the adrenaline rush that can only be brought on by a near-death experience.
A fantastic alternative is responding to a text from your girlfriend with "He's busy" because it implies a certain scenario most people aren't going to be too happy with.
I don't know who this girl is, but she's definitely one of those people.
Pictured: a recipe for disaster.
I think she might be mad.
It's getting louder!
Godspeed.