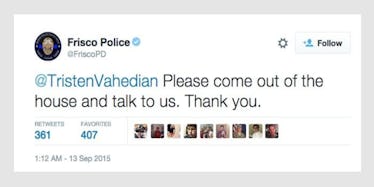 Guy Tweets About Cops Surrounding Him And The Police Tweet Right Back
I assume most police departments have policies in place when dealing with standoffs, and movies led me to believe these policies usually involve calling in grizzled negotiators who were just a few hours away from making it through their last days before retirement.
If they want to do their jobs correctly, the police have to stay up to date on new and developing forms of technology -- the kind of technology that would just make an aforementioned negotiator throw his or her phone in a fit of confusion and anger.
On Saturday night (early Sunday morning), a Twitter user tweeted the following message concerning an assembly of police officers who arrived at the house he was at where he was presumably involved in some activity that causes a town's entire police force to show up at a person's house.
He did not seem pleased with the development.
The whole frisco pd is here f*ck 12 — perѕιan wнιтeвoy (@TristenVahedian) September 13, 2015
While movies led me to believe the next step is to send a SWAT team to extract the target by any means necessary, these officers decided to take a different approach.
@TristenVahedian Please come out of the house and talk to us. Thank you. — Frisco Police (@FriscoPD) September 13, 2015
Maybe they should have gone with that strategy after all.
@FriscoPD I'm gone homie — perѕιan wнιтeвoy (@TristenVahedian) September 13, 2015