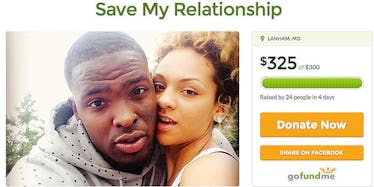 Guy Crowdfunds To Make Sure His GF Doesn't Cheat On Spring Break
Oftentimes, when couples are on the rocks, they'll turn to therapy as a last-resort effort to save their relationship.
Azel Prather Jr. turned to GoFundMe.
It started when Prather's girlfriend decided to go to Miami for spring break. Though their relationship was fine -- "great," even -- he became worried she'd get caught up in the carefree fun and find someone new.
So he set up a GoFundMe campaign to raise money for a plane ticket so he could follow her to Florida.
He wrote,
We have a great thing going and I would hate to see it go down the drain for a little sand and sun. If you could find it in your heart to donate ANYTHING to help save my relationship, I would greatly appreciate it.
Surprisingly, Prather's pleas have found dozens of supporters; so far, his campaign has raised $330 of the initial $300 goal.
Prather's trust issues seem to be the real problem here, but I hope everything works out for the pair.
Citations: Boyfriend Begs For Donations To Help Him Save His Relationship During Spring Break (People)