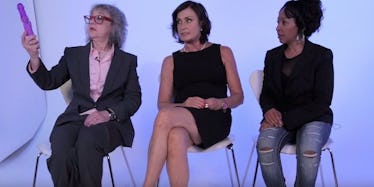 Grandmas Examining Sex Toys Will Scar You For The Rest Of Your Life (Video)
When's the last time you called your grandmother… to talk about sex toys?
Cosmopolitan posted a video Tuesday called "Grandmas Review Sex Toys" because it's important to keep the senior community educated on technological advancements.
The video features three women between the ages of 64 and 70 who are tasked with sharing their opinions on five relatively run-of-the-mill tools for adult entertainment.
The women are particularly unimpressed with the We-Vibe 4 Plus, a remote-controlled couple's vibrator.
Deborah, 70, expresses her concern about the product's risks during river-adjacent sex romps.
She remarks,
What if this went in the river and choked a fish? Thumbs down!
Overall, the ladies seem pretty open-minded though they yearn for simpler times.
Uzni, 64, shares,
Sex toys can be nice, if they stop making all the junk sh*t out there and leave it alone like it was back in the day.
Wise words from women who have lived to see it all, or, at least 64 to 70 years of it all.
Citations: Grandmas Review Sex Toys | Cosmopolitan (Cosmopolitan)