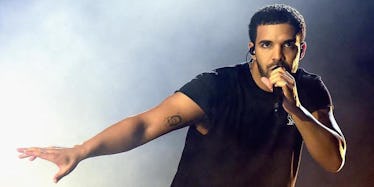 15 Moments That Would Make The Grammys Worth Watching
Getty Images
The gramophone is a relic of a bygone era, and its only real purpose in the modern day is to liven up the living rooms of rich people. Despite the parallels it shares with this archaic record player, the Grammys still draw quite an audience every year.
I'll admit the telecast always has its entertaining moments, and even though I only consider myself a casual fan of music, I usually find myself tuning in to watch at least a couple of hours every year because it's more appealing than doing nothing.
There's no way the Grammys can compete with a new episode of "The X-Files," though, and based on my current hangover, I think I'm going to wait until the morning to browse the memes, Vines and reaction GIFs inspired by the night's most memorable moments.
I will say I'd be a lot more likely to tune in if I knew the night was going to be filled with nonstop entertainment. If CBS could have promised me at least half of these things would happen, I wouldn't miss a single second.
1. Taylor Swift decides she doesn't want to play a song from 1989 and opens with a cover of "1985" instead.
2. Whoever presents the award for Best New Artist takes the the time to explain how Meghan Trainor is considered a "new artist" when "All About That Bass" came out in 2014.
3. Someone also takes the time to explain the difference between the Song of the Year and Record of the Year awards. I could look these things up, but it requires more work than my level of curiosity can justify.
4. The Lionel Richie tribute features a 20-foot-tall replica of the clay bust from his "Hello" video.
5. Adele spontaneously decides to also make her performance a Lionel Richie tribute with a "Hello"/"Hello" mashup that actually manages to break the Internet.
6. After the Internet recovers, Twitter immediately breaks when the cast of "Hamilton" arrives on stage. Twitter stock tumbles so far, the company has no choice but to declare bankruptcy.
7. Taylor Swift manages to incorporate every single dance craze from 2015 while dancing in place at her seat.
8. Macklemore somehow wins Best Rap Performance for "White Privilege II," despite not being nominated.
9. Drake cries -- just a little bit -- after failing to win the aforementioned category.
10. I manage to make it through the entire telecast without saying or thinking, "Who the hell is that?" more than five times, reminding me that with every minute I slowly become more and more out of touch with what is considered "cool" by young people.
11. Jennifer Lawrence does something clumsy even though she wasn't even invited to the ceremony.
12. Lady Gaga reveals her newest project is performing nightly as a David Bowie impersonator at a casino off the Vegas Strip.
13. CBS posts a live stream of comments from country music fans on screen during Kendrick Lamar's performance.
14. Seth MacFarlane manages to beat Bob Dylan and Tony Bennett in the category they're all somehow nominated for.
15. Kanye storms the stage yet again and complains about The Life of Pablo not winning Album of the Year, even though he still hasn't released it.