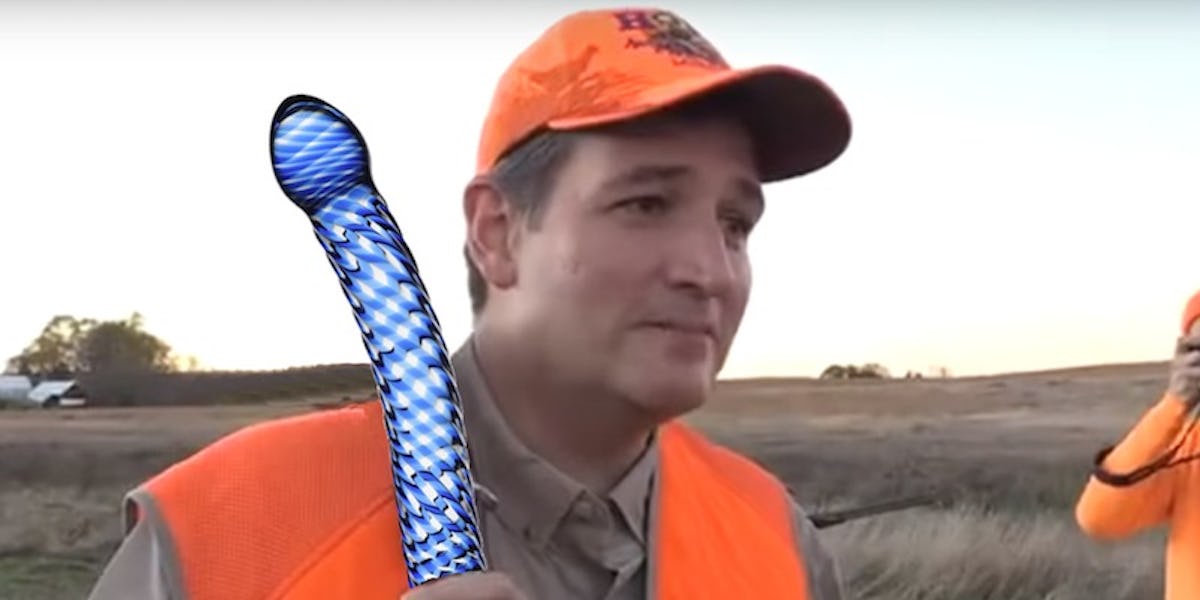 GOP Candidates Holding Dildos In Place Of Guns Is Hysterical (Photos)
Twitter
The Republican presidential candidates may not agree on everything, but they certainly all agree on their deep love of guns.
Faint cries echo from the right wing: The Second Amendment suggests the more guns, the better! They can't take away our guns! Guns make the world a safer place! 
If there's one thing the GOP is more passionate about than gun rights, it's taking photos with their beloved firearms.
One man by the name of Matt Haughey, founder of MetaFilter, realized it was due time to show the Republican candidates just how silly they look showing off their weapons for the American public.
What better way to do that than to replace the firearms in photos with sizable dildos?
Haughey is asking his Twitter followers to send over their favorite photos of GOP candidates, which he will then Photoshop to include a choice dildo and then post to his #GOPdildo Tumblr.
Everybody send me photos of candidates trying to look tough with their guns. I got some photoshopin' to do — Matt Haughey (@mathowie) December 5, 2015
Check out some of Haughey's hilarious creations below, and head over to his Tumblr page for new photos through November 2016.
Donald Trump and Black Beast #GOPdildopic.twitter.com/Gy0UexUUT5 — Matt Haughey (@mathowie) December 5, 2015
All eyes are on @BobbyJindal's glorious Pink Double Troublemaker #GOPdildopic.twitter.com/1d7qvT1pje — Matt Haughey (@mathowie) December 5, 2015
O the Saturday nights @realDonaldTrump will have with his favorite model. #GOPdildopic.twitter.com/gkbMPQAEfg — Matt Haughey (@mathowie) December 5, 2015
Mitch McConnell and his favorite Rosy Red wonder #GOPdildopic.twitter.com/473ZoYnAhq — Matt Haughey (@mathowie) December 5, 2015
When @marcorubio pulls out Big Blue at a show, everyone notices #GOPdildopic.twitter.com/b3VaMxXeAu — Matt Haughey (@mathowie) December 5, 2015
Keep your damn government hands off my Pink Dragon says @RandPaul#GOPdildopic.twitter.com/XgxJNBFInm — Matt Haughey (@mathowie) December 5, 2015
It's ok, once you see @LindseyGrahamSC's Purple Regin you can't look away #GOPdildopic.twitter.com/Q8so4mqhjz — Matt Haughey (@mathowie) December 5, 2015
Ok, fine, one last #GOPdildo for today on https://t.co/yj4XmJHoxspic.twitter.com/kBpX9K2MRu — Matt Haughey (@mathowie) December 6, 2015
A couple late night #GOPdildo additions to the https://t.co/yj4XmJHoxs site: Lindsey Graham and Michele Fiore. pic.twitter.com/Jqaub6WRJ0 — Matt Haughey (@mathowie) December 9, 2015
Citations: MetaFilter founder swaps GOP candidates' guns for dildos with hilarious results (AV Club)