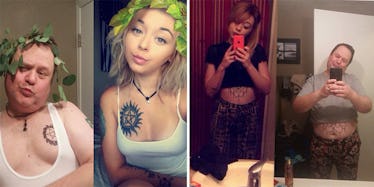 This Dad Recreates His Daughter's Selfies And It's The Greatest Thing Ever
Twitter
It's often so hard for parents to relate to their kids. In light of this, many mothers and fathers have turned to social media to try to communicate with their children on that level.
This is not that: This is a dad trolling his daughter's selfies. He dressed up in costume and recreated a couple of his daughter's selfies, exclusively to make fun of her.
Apparently, she liked them. Or she thought they'd get her some vibrant social media traction. OR, this is just a very clever way to make people on the internet look at her good selfies again, under the ruse of hilarity.
WHO CAN SAY? Anyway, she posted them on Twitter.
Here is his first masterpiece. I call this one "A Dionysian Feast With Satan:"
Because he is a man devoted to his craft, he recreated his daughter's, uh, satanic star – that's what that is, right? – with a Sharpie. Presumably, this father is God's only retribution upon those who support the powers of evil (duck face).
Then, he did it once more. For this one, he either bought those crazy pants or had them lying around the house. I'm impressed either way.