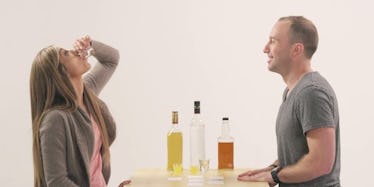 Couples Play Hilarious 'Truth Or Drink' Game And Sh*t Gets Awkward (Video)
If you still haven't made plans for Valentine's Day tomorrow, don't panic: Cut Video has you covered.
The team behind the popular YouTube channel created a hilarious love-themed drinking game that'll keep you and yours occupied all night.
The game, Truth or Drink, requires couples to take turns asking each other a set of random sex- and relationship-themed questions. The respondent can choose to answer truthfully or ignore the question and take a shot. The more awkward the question, the better.
In the video up top, eight couples (including, hilariously, the director's grandparents) demonstrate a few rounds of the game.
Questions range from the mildly uncomfortable ("When was the last time you masturbated, and where was I?") to the dangerous ("Which two celebrities would you have sex with if we weren't together?"), and the answers get increasingly funnier as the couples get drunker.
Though the entire video is hilarious, it ends on a surprisingly sweet note, so definitely watch the whole thing.