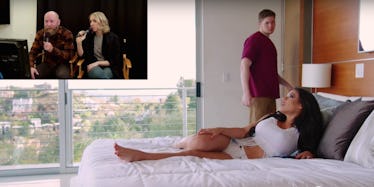 These Comedians Fed Hilarious Lines To Porn Stars Filming A Sex Scene
Nikki Glaser and Kyle Kinane had sex with each other on camera vicariously through porn stars, and it was hilarious.
I'm not gonna lie, I've had a secret goal of writing and not starring in my own porno since I was a teenager. It's not even that it's on my bucket list; it's literally my entire bucket list.
I don't want to go to Egypt, or meet a president, or save a child from an orphanage fire or anything dumb/overrated like that. I just want to write a script where two people shtup at the end, have it casted, get it filmed and then send it out into the world.
That's all I want in life.
Comedian Kyle Kinane got to do exactly that when he joined Nikki Glaser on her show, "Not Safe with Nikki Glaser," and I've never been more jealous of anyone.
The two of them got to improvise lines and feed them to porn stars Jake Jace and Luna Star mid-shoot -- aka live out my dreams -- and it's honestly one of the best things you'll see all week.
*sigh* Maybe one day. *I go and look out of a rainy window.*