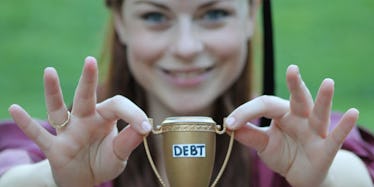 Woman Poses With Her College Debt In Hilarious Graduation Photos
Areon Mobasher
When I graduated from college, the only things I really did to celebrate the occasion were crawl into bed after getting back from the ceremony and hope my hangover and sunburn would hurt less by the time I woke back up (they didn't).
Getting your degree is a milestone worth commemorating, but if you're like most people who graduated from college in the past few decades, you're probably not going to have a ton of funds to work with when it comes to having fun.
After Maigan earned her BA in Theater, she channeled her inner performing artist and staged a less than traditional graduation photo shoot with Areon Mobasher to celebrate the occasion.
She started with the kind of graduation pictures you'd expect to see from a shoot like this.
Then, she started to get a little avant-garde.
Oh look, a trophy nobody wants to win.
Everyone has to start somewhere.
Who knew student debt could look so glamorous?