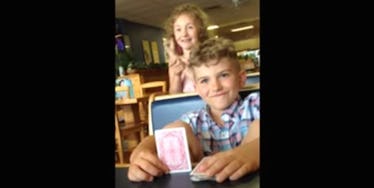 Little Girl Helps Her Dad Cheat At Cards And Blows Her Brother's Mind (Video)
Siblings will always keep you humble.
In a video posted to YouTube by AFVApproved, a little boy thinks his father can magically guess the number on every playing card he holds up. You can almost see him wondering when exactly his dad gained superpowers.
He soon realizes, however, his dad's X-ray vision is just his sister's idea of a practical joke.
When this boy becomes a professional magician someday, he'll be able to credit his sister with starting him on the path to success.