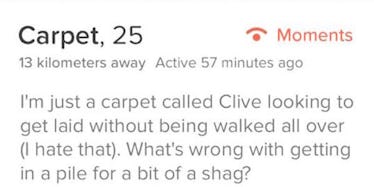 This Carpet Pun War On Tinder Is The Best Thing You'll See Today (Photos)
When I was a kid, I took great joy in imagining what inanimate objects would look and act like if they suddenly came to life, "Beauty and the Beast" -style.
Our home phone (cord-bound landline, of course) had a shrill voice and tight, springy curls; her name was Cathy, and she lived up to her 'chatty' moniker proudly.
The toilet, Jon (no H) was a round, grumpy old man. He mostly liked to sit on his La-Z-Boy and shoot the sh*t in his old grumbly voice.
Some objects were easier to imagine than others. Carpets, for instance, were hard: They were all so complex.
Though I've long since abandoned my hobby of personifying household items, it appears someone else has since adopted it.
On Tuesday, an Imgur user uploaded a series of screenshots documenting the pun-derful exchange between Clive the Carpet and the Tinder match of his dreams.
Clive is just your average joe looking for "a bit of a shag."
Life has him down, and lately, Clive has been feeling a bit frayed.
But when Clive matched with a new girl on Tinder, he thought something good was afoot.
Their intimate conversation had Clive feeling all warm and fuzzy…
In fact, he was floored.
But somebody else rolled up on Clive's lady love first…
And poor Clive was swept under the rug yet again.
But Clive's a real softie, and he'll find his true match one day.
After all, the man's quite the catch (and from what we hear, a great lay).