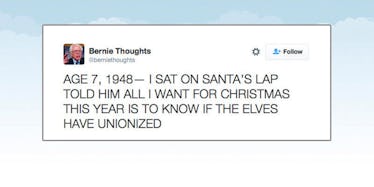 The Five Best Political Parody Accounts To Follow This Campaign Season
Twitter
If you somehow manage to ignore the depressing (and borderline terrifying) consequences of certain presidential candidates actually getting elected next November, the 2016 campaign season can serve as an endless fountain of comedy (this should not be confused with the fountain from the opening credits of "Friends").
Whether it's Hillary Clinton's  constant and desperate attempts to connect with a demographic that isn't old enough to vote or everything Donald Trump has done since announcing his candidacy, it seems like some candidates are practically begging for people to make fun of them.
Thankfully, the people have obliged. While most people probably associate parody accounts on Twitter with fake celebrities who post stolen jokes and pixelated memes with too many watermarks, there are more than a few genuinely entertaining profiles for people on all sides of the political spectrum (but mostly liberals).
I've accumulated some of the more entertaining accounts I've come across in the past few months. Make sure you take them way too seriously.
Donald Trunch
I'd argue Donald Trump has provided the world with more comedic fodder than all of the other candidates combined. He's also spawned the most accounts poking fun at the many oral farts he's presented as facts and the braggadocio he employs in an attempt to cover up the stench.
Many people have tried to capture his essence in 140-character bursts, but I haven't seen an account that manages to balance the various aspects of his personality better than @DondaldTrunch.
Bernie Thoughts
Want to read the imaginary ramblings typed in all caps from a slightly eccentric politician on the other side of the aisle? Look no further than @BernieThoughts, your one-stop shop for quotes you probably wouldn't be shocked to hear Bernie Sanders say in real life.
It's perfect for anyone who's ever wasted hours reading Larry King's #ItsMy2Cents and was left wanting more.
GOP Teens
The best parodies are the ones that are almost impossible to differentiate from reality, and that's why @GOPTeens -- run by a former Clickhole editor and current writer for "The Late Show With Stephen Colbert" -- has been confusing the Internet since its launch three years ago.
It's not hard to see why -- the excessive reliance on hashtags and emojis in a transparent attempt to engage the insufferable kids in your high school civics class is exactly how most people would expect the RNC to try to engage younger voters.
Horny Ted Cruz
Most successful parodies work because they manage to perfectly capture the essence of whatever it is they're making fun of. @HornyTedCruz doesn't necessarily do that, but that doesn't mean it doesn't manage to be bizarrely entertaining.
The premise is simple: This is what Ted Cruz's Twitter account would look like if he wanted to pick up bangin' chicks instead of dropping sick burns all day long.
It might be fairly juvenile, but I find glancing back at the profile picture after reading each tweet makes it infinitely more enjoyable.
Hillary Clinton's Actual Snapchat
As I mentioned above, the best parodies are the ones that could be real, but sometimes the real world is funnier than anything anyone could have imagined.
If you're going to follow anyone this election season, it should be @hillaryclinton on Snapchat. It would be an amazing parody account that highlights how much Clinton loves to try to appeal to younger voters with memes in place of substance -- except for the fact it's actually maintained by her campaign.
It is truly the gift that keeps on giving.