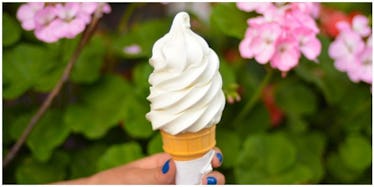 This Baby Devouring An Ice Cream Cone Is Literally All Of Us During Dessert
kipgodi/Shutterstock
Who among us hasn't looked at an ice cream cone and thought, "I just want to bury my face in that?" Sociopaths, that's who. And yet, society confines us to eating ice cream properly -- with our "hands" and not our "faces." We have to "hold the cones" instead of the ice cream so we "don't make a mess." It's oppressive.
Well, one brave baby is taking on our ice cream overlords by eating her grandma's ice cream face-frickin'-first.
Not only is this baby a revolutionary -- she looks good doing it. Look at the simultaneous joy and determination. Look at her bounce after every bite. Look at her smear it all over her grandmother, who is clearly trying to indoctrinate her into the ice cream eating system set forth by Big Dairy. (Or perhaps it's the Big Cone lobby that's foisting wafer-like pastry on us. Devious.)
Just look at her take what is rightfully hers -- vanilla soft serve, cone be damned.
Delicious. Smooth. Not confined by your rules. She's going to save us all one day.
But in all seriousness, this baby is all of us. If I didn't have sensitive teeth (#adulting) I would be right there with this little dessert enthusiast. Ice cream, creme brûlée, chocolate cake -- you name it. I would be a freaking pig if I had my way.
She kind of reminds me of Cooper, the ice cream-eating dog.
Though, to be fair to Cooper, he's much neater when attacking soft serve.
Precision. Swiftness. I can appreciate that.
Ashley Cavanaugh, the woman who posted the viral video to her Facebook, said "This was the small mess lol! It got much worse!" And in the comments she explained, "It was so bad. Napkins and baby wipes couldn't handle it. I had to go to the counter and get a dish cloth."
For ice cream — worth it.