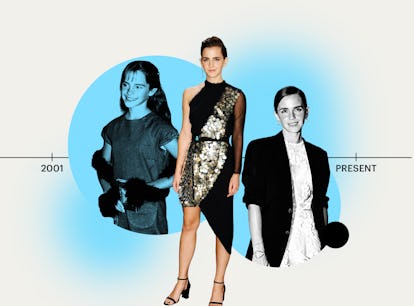 Emma Watson's Style Evolution Is ✨Magical✨
A masterclass in beauty and grace.
Elite Daily; Getty Images
Those who watched the Harry Potter films as a child watched Emma Watson growing up alongside them. With every new film, fans could track the *little woman* blossoming into an adult — and into her personal style. As she progressed through Harry Potter and forged her own path after, she was also making her way in the fashion world and experimenting with new looks, making Emma Watson's style evolution one of the most enchanting to witness.
Even when promoting her first movie, the former child star had an elegant vibe, and her style has aged as gracefully as she has. Though she's varied her looks — sometimes leaning more edgy (remember the choppy bangs of 2018?), other times more ethereal (the bob haircut of 2021 was a mood); at times an explosion of color, but often blacks and whites — she is the queen of consistently serving look after look. Whether it's to a movie premiere, the Met Gala, or a charity fundraiser, you can count on Watson to bring total chic vibes.
Emotionally prepare yourself (aka get ready to feel old) as you watch Emma Watson's style evolve across over the course of 20 years:
November 2001: Emma Watson's First Premiere Look
Watson was ahead of her time at her very first premiere for Harry Potter and the Philosopher's Stone in 2001. She slayed at the age of 11 in her maxi dress, accessorized with a fierce purple boa and snakeskin boots, and a gold wristlet. While her looks do get a bit more high fashion, this one is still a hit.
November 2002: Emma Watson's Cowboy Chic 'Fit
If you need even more evidence that fashion trends are cyclical, take a look at Watson's look from the 2002 premiere of Harry Potter and the Chamber of Secrets. The brown leather jacket, paisley maxi dress, and boot combo could easily be worn by the likes of EmRata today.
May 2004: Emma Watson's Fresh Floral Accents
Watson attended the premiere for the third Harry Potter movie wearing this sweet eggplant gown with a floral embellishment that epitomizes spring. Do you remember looking this chic at 14 years old?
July 2007: Emma Watson's 1920s-esque Black & Gold Gown
The actor wore this black and gold glitzy gown to a charity event in 2007. The look, accented with timeless black heels and a gold belt and wristlet, gives total Gatsby-meets-Old Hollywood vibes.
February 2009: Emma Watson's Monochromatic Navy Number
Watson has often opted for monochromatic 'fits over the years, and this navy one is everything. The silky texture and sparkly embellishments were glam AF, and the navy shoes pulled everything together effortlessly. Pulling her hair back to bring more focus to the pleated neckline was also an intentional move — and it was the right one.
July 2009: Emma Watson Makes Umbrellas Look Chic
In true British form, Watson attended a Harry Potter premiere in a gray and red patterned gown, accented with a red headband, gold strappy heels — and an umbrella. LBR, the umbrella wasn't part of the original 'fit, but it kinda works. Instead of letting the umbrella distract from the look, she somehow made it part of it.
September 2009: Emma Watson's Glitzy Fashion Week 'Fit
EmWat's London Fashion Week 'fit was a lesson in glitz and glamour in this gold mini dress with black accessories. She attended the Burberry event as the face of the brand for Fall 2019/Winter 2010.
November 2010: Emma Watson Gets Edgy
Emma Watson practically broke the internet when she got a pixie cut shortly before the second-to-last Harry Potter film. It's safe to say she's the blueprint for introducing a new life era with a new 'do. The sleek cut totally matches the vibe for her more edgy, lace and ruffled mini dress with a red poppy decal.
July 2011: Emma Watson's Elegant Gown
Between the short hair and the stunning gray gown, Watson looked like a cross between a fairy and a princess. What a way to ring in the last HP movie in style. The tulle ruffles and embellished top on this gown are *chef's kiss*.
May 2013: Emma Watson Goes Punk For Met Gala
Watson kept it pretty simple at the 2013 Met Gala themed "Punk: Chaos to Couture" with this strappy black moment. While her vibes usually lean more glam than grunge, she pulled this look off effortlessly.
April 2015: Emma Watson Means Business
Watson looked like a boss in this simple black top and gray pant (that sort of has a skirt accent) combo. It's giving 9-5, but make it high fashion in the best way possible. After wearing gowns in most of her red carpet looks, this marked the start of her pants era.
April 2016: Emma Watson's Floral Pants Ensemble
At first glance, this 'fit might look like a slitted gown, but it's actually a tunic with pants. Who says you need to wear a dress to be glam? The red and white accents in this gorgeous, floral embellished tunic paired perfectly with Watson's navy pants and heels. The red lip was the cherry on top of the cake.
May 2016: Emma Watson's Sustainable Met Gala Look
Celebs are often criticized for their overconsumption and how they wear an outfit to an event once and never again. You might have contributed to Watson's look at the 2016 Met Gala: She changed the game with her pant-gown hybrid made of recyclable fibers from plastic bottles. Watch out, the future of fashion is right here.
February 2017: Emma Watson, Soft & Embellished
Emma was breathtakingly ethereal in this embellished gown at the Elle Style Awards afterparty in 2017. She received the Woman of the Year award, but her outfit was the real winner of the night. The dainty illustrations against the soft white gown were melt-worthy.
February 2017: Emma Watson's Disney Princess Era
Watson was clearly channeling her inner Disney princess at the Beauty and the Beast premiere in Shanghai. She shined in this sheer champagne gown with silver embellishments. BIG Belle energy, especially with that cape.
May 2017: Emma Watson, Disco Ball — But Make It Edgy
Watson brought the drama to the MTV Movie and TV Awards. She kept things interesting with the black mesh single sleeve, asymmetrical hem, and disco ball-esque sequins. The edgy look paired perfectly with her slick updo.
June 2017: Emma Watson Gets Experimental
This layered 'fit Watson wore to an event in Paris felt totally fresh. The sheer black and gold dress, contrasted against the white patterned top, dresses it down a little, and the updo let the focus stay on this serve.
December 2019: Emma Watson Goes Dark
While this 'fit might be monochromatic, don't mistake it for being boring. Watson instead chose to play with textures, blending the ruffly top with the smooth gown, which was partially tucked into velvet thigh-high boots. The vampy lip, tousled 'do, and seashell clutch brought this lewk to another level.
March 2022: Emma Watson In Contrasting Colors
Watson was in her element in a black and white gown at the EE British Academy Film Awards. The soft, white ruffles and glitzy accessories against the sleek black top and heels was oh-so-chic, just like her soft, beachy waves.
September 2022: Emma Watson, Soft & Edgy
Another black and white moment, one of Watson's most recent looks was at the Caring for Women Dinner this fall, where she contrasted a romantic, white lace dress with a more edgy studded clutch and strappy shoes, tied together with a black blazer. She is the true CEO of mixing textures.