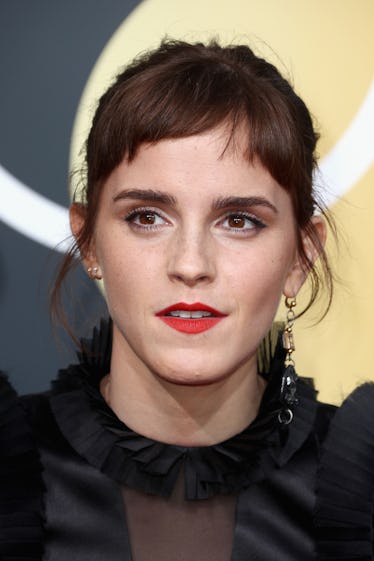 Emma Watson Debuted A New Haircut At The Golden Globes & She Looks Unrecognizable
Frederick M. Brown/Getty Images Entertainment/Getty Images
The lack of nominations for Beauty and the Beast was one of the most depressing snubs of the Golden Globes 2018. The female-led, female audience-driven film was one of the two biggest box office successes of the last year, and would have been Number One in the world for all of 2017, if not for a last second dethroning by Star Wars: The Last Jedi on New Year's Eve. Yet it was overlooked, in a continuing belittling of genre films aimed towards women. But that's not stopping star Emma Watson from coming to the red carpet party. And what we're most eager to see from her (besides the inevitable black dress) are Emma Watson's bangs at the 2018 Golden Globes, done up red carpet ready.
Watson is a committed member of the brand new movement Time's Up. The nonprofit's message will be one of the dominate narratives of tonight's red carpet, but Watson is taking it a step further by being one of seven stars who brought feminist activists as their dates to the red carpet this evening. On her arm tonight will be Marai Larasi.
Larasi is the executive director of Imkaan, a UK based leading black-feminist network, who count among their members people of color from England, Wales, and Scotland. She's also the co-chair of the End Violence Against Women Coalition, a worldwide coalition to eradicate violence against women and girls around the world.
For her work, she's been named one of the most influential LGBT people on the World Pride Power List in 2013. She's also already earned an MBE (Member of the British Empire) at the age of 48, which is the first step towards knighthood.
Ahead of tonight's red carpet event, Watson posted a picture of herself with her latest reading material. (Her book club on Goodreads is famous.) But, of course, while fans are probably googling her latest recommendation for our bookshelves, fans were also oohing and ahhing over the bangs, which look great with the dramatic brows that are becoming standard on the carpet in this back half of the decade.
With everyone on the red carpet wearing black dresses, it's the little things like a change in hairdo, or a set of diamond chandler earrings that will get starlets noticed on the red carpet.
And while some might accuse Watson of being a hypocritical for paying attention to such things, the truth is, she's a career woman, and the Golden Globes, as the first major red carpet of the year, is one of the biggest networking events on the Hollywood calendar, (See also, Emilia Clarke, who's in LA all week this week, trying to line up a post-Thrones project.)
Watson not only wants to get the Time's Up message out tonight, but she's also there working to line up work. (She has noting on in production currently.) In order to do that, she needs to be working the social media, and the attention of those on the red carpet. She's only 27 years old, and she's already starred in nine worldwide monster hits in 18 years. She's got a box office-winning streak she needs to maintain.
As for her black gown, I have to admit, it's not totally my favorite. I'm not one for the twee look, and though it really does go with the hairstyle (and the cute bangs, and the freckle emphasizing makeup job), it's just a little too fluttery for my taste.
The two of them were on the Golden Globes' Red Carpet Facebook Live event, and Watson handed the floor to her date to speak her mind on the subject of women's equality.
Marai Larasi message was a powerful one:
If we are to end violence against women and girls, we need to create seismic shifts across our social norms.
She's not wrong. Let's hope tonight is a step in that direction.