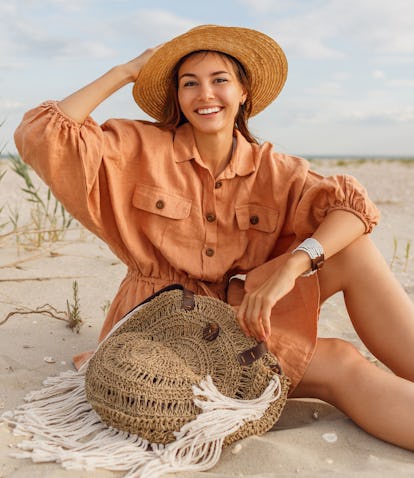 15 Summer Style Essentials You Can Buy On Walmart.com
Dresses, sandals, sunglasses, and more.
Shutterstock
We may receive a portion of sales if you purchase a product through a link in this article.
You've got vacations booked, friend reunions planned, and even a few playlists on deck. All that's missing is the perfect summer wardrobe. During the warmer months, your closet should be filled with key pieces that can be easily worn, no matter what sort of antics you've got planned. With the right collection, putting together the ideal hot looks shouldn't be too difficult, especially if you start with the basics. A good pair of denim shorts, a flowy, breathable dress, and a pair of functional yet fashionable footwear are all crucial elements that will help you nail the summer style assignment.
If the concept of a summer capsule wardrobe seems daunting, have no fear. With Walmart.com as your style destination, you'll be able to nab every item on your shopping checklist without worrying about stressing out your bank account. That's because Walmart not only has a fabulous assortment of all your summer must-haves, they're affordable to boot. This means that, in addition to your seasonal classics, you'll have room in your budget for trendy pieces like crescent handbags and midi skirts (and maybe even a second pair of sandals!).
Ready to earn your well-deserved title as a summer fashion icon? Read on for 15 essential pieces to shop from Walmart.com, along with tips on how to style them.
This article was originally published on