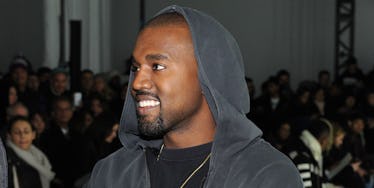 People Are Waiting In Line To Buy Yeezys That Won't Even Make It To Shelves
Getty Images
Between dropping the most fire album of the year, and Kim's recent nude selfie, it's hard to argue that Kanye West isn't the most blessed man on two feet.
With that said, he's also done an absolutely terrible job at being a good role model (mostly via Twitter).
But it's more of what he's doing with his Yeezy drops that's f*cking up both the game and people's heads.
TMZ caught a flock of sneakerheads waiting outside a Shoe Palace on Fairfax in LA, where there's no official confirmation of any release at all!
Exactly why they chose to wait for absolutely no reason came from a blog post, which speculated 60 pairs would be shipped to the store... by Friday.
Well, there will be no shipment, and the store took to posting this sign to let the campers know:
Shoe Palace will not be receiving any adidas Yeezy products in the coming weeks. pic.twitter.com/zfLyaXaku8 — ShoePalace.com (@ShoePalace) March 9, 2016
I guess if you truly don't have sh*t to do all day, yet you have a ridiculous amount of bread to spend on kicks, this might be the perfect activity for you!
If you do have responsibilities like a job, however, you should probably just chill.
Here are the thirsty fans who are claiming Kanye is putting them through hell for his Yeezys.