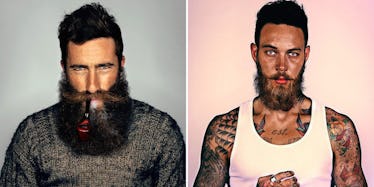 A London Gallery Is Showing Off The World's Best Beards Right Now (Photos)
The Brooklyn hipster beard frenzy has officially migrated across the pond -- all the way to England.
London's famed Somerset House is currently hosting a photography exhibition, Beard, which -- unsurprisingly -- documents the best beards from around the globe.
Shot by photographer Brock Elbank, the exhibition includes over 80 portraits of men (and, yes, women) who boast badass facial hair.
The award-winning fashion photographer originally began documenting the holy grail of facial hair after meeting charity campaigner Jimmy Niggles, who'd grown a beard to honor a close friend he'd lost to skin cancer.
Niggles hoped his bushy beard would serve as a conversation starter, help him spread his friend's story and, presumably, help others avoid the same fate his friend fell to.
Soon after, Elbank launched his social media-driven #Project60 series, for which he took 60 pictured of bearded people as a way to spread awareness of Niggles' "Beard Season" campaign.
Somerset House's Beard exhibition features some of those portraits, along with several other never-before-seen photographs.
The exhibit runs through March 29. Learn more here.
Stefan Bostrom
John Hurt
Brandon Baker
Frank Moon
Edwin Venn
Miles Better
Billy Huxley
Harnaam Kaur (she has polycystic ovary syndrome)
Jimmy Niggles
Ricki Hall
Citations: Hipsters Rejoice Beards Aplenty At Somerset House (Londonist), Some Of The Worlds Greatest Beards Have Gone On Display In London (Buzzfeed)