We all have our personal preferences in the bedroom that range from the seemingly normal stuff to some pretty weird sh*t.
Plus, we all have a variety of ways to justify why we're into certain sexual behaviors, of course.
Lately, we've been dishing out all sorts of steamy confessions that include everything from people's bizarre orgasm habits to dudes getting real about all the things women do to totally kill their boners.
If you loved seeing those people spit out their secrets, you'll be glad to know I just got the scoop on yet another series of sex-related real talk.
Whisper, that app that lets you spill the beans via anonymous messages, just asked a bunch of ladies to give them the deets on why they prefer to spit or swallow after giving a BJ.
There are the obvious reasons some ladies prefer to swallow, like making their men feel special or making the finale less messy, as well as some interesting answers that will really blow your mind.
I'm just trying to be polite.
Swallowing makes him feel special.
The consistency just doesn't agree with me.
Sperm soothes my depression.
I swallow, but it makes me sick.
I do what I want.
Spitting sends the message.
It gives me the upper hand for the future.
TBH, I just don't know where to spit it out.
I don't do it for me; I do it for him.
I swallow for the health benefits.
The look on his face makes swallowing totally worth it.
Swallowing just isn't for me.
Sperm aggravates my acid reflux.
Sorry, but I just think way too much about it.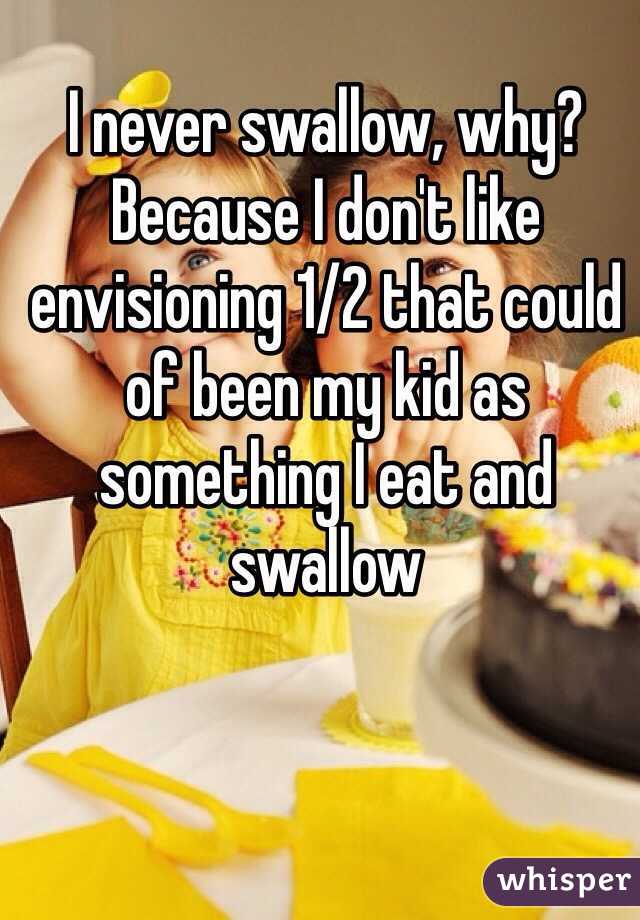 For more sex confessions, check out Whisper.