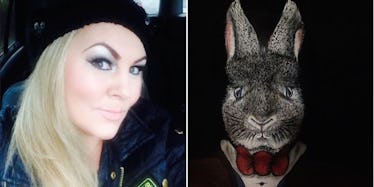 Woman Turns Herself Into Easter Bunny Using Makeup And It's Terrifying
When it comes to celebrating Easter, some people tend to be a little more enthusiastic than others.
Case in point: Maria Malone-Guerbaa.
In honor of the upcoming holiday, the 41-year-old makeup artist from London decided to go all out on her Easter-themed attire. But you won't find her dressed up in Sunday's best while sporting a cute little pair of bunny ears.
Instead, Malone-Guerbaa decided to take her Easter bunny endeavors to the next level by using her incredible makeup skills to transform herself into an outrageous rabbit that could scare the pants off Peter Cottontail.
It took Malone-Guerbaa three hours to complete this hare-y process, and she didn't use any prosthetics or special effects to achieve her creepy cottontail appearance. All she used was plain old makeup and some inspiration from the Internet.
While there's no denying her makeover is seriously impressive, she kind of looks like the Easter bunny from your nightmares.
Seriously, if you found this creature hiding eggs around your house in the middle of the night, you'd probably run out the door faster than Alice's white rabbit.
Behold, Maria Malone-Guerbaa's Easter bunny makeup.
Maria took a picture of her progress every 20 minutes during the three-hour Easter makeover.
Citations: Woman Transforms Herself Into An Easter Bunny With Her Crazy Makeup Skills (Metro)