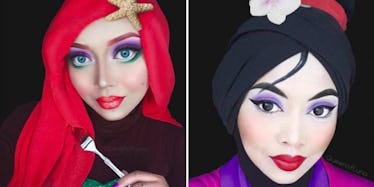 This Makeup Artist Turns Herself Into Epic Disney Characters Using Her Hijab
You can do some pretty cool things once you master the art of makeup -- like, you know, live out all your childhood fantasies by turning yourself into fairytale characters, of course!
A while back, I introduced you to Promise Phan, the YouTube star who turns herself into a variety of dazzling Disney princesses.
If Phan's mesmerizing makeup made all your dreams come true, you'll be glad to know she's not the only gal out there who's dominating Disney-inspired makeup.
Saraswati, who goes by the name @queenofluna on Instagram, is another talented artist from Malaysia who knows a thing or two about embracing her inner princess.
Using only a hijab and some expertly applied makeup, Saraswati transforms herself into all sorts of Disney characters.
You can find all of Saraswati's incredible looks on her Instagram, and if princesses aren't really your thing, you'll be pleased to know she also uses her hijab to create a variety of badass superheroes and comic-book characters, too!
Take a look at the pictures below to see some of Saraswati's magical Disney makeup.
Ariel from "The Little Mermaid"
Tinker Bell from "Peter Pan"
Mulan from "Mulan"
Ursula from "The Little Mermaid"
Jafar from "Aladdin"
Alice from "Alice in Wonderland"
The Queen of Hearts from "Alice in Wonderland"
Cheshire Cat from "Alice in Wonderland"
Cruella de Vil from "One Hundred and One Dalmatians"
Belle from "Beauty and the Beast"
Jasmine from "Aladdin"
Pocahontas from "Pocahontas"
Elsa from "Frozen"
The Evil Queen from "Snow White and the Seven Dwarfs"
The Mad Hatter from "Alice in Wonderland"
Citations: This Woman Uses Her Hijab And Makeup To Transform Into Disney Characters (BuzzFeed)