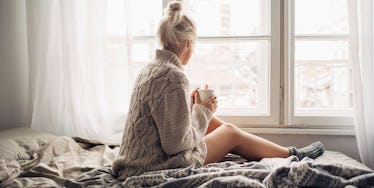 Here's What Winter Looks Like On Instagram Vs. What It's Really Like
Like salads and high heels, winter is far better in theory than it is in reality.
It's impossible to deny the beauty of glittering, snow-covered fields or bare branches covered in glassy ice, and on Instagram, these seasonal gifts are heavily exploited.
During the cooler months, it's nearly impossible to scroll through the app without stumbling upon a snapshot of some magical winter wonderland.
But, in reality, these vistas are best enjoyed from a distance, where the frost can't bite you and the cold wind can't whip you.
Need proof? Take a look below.
Instagram: conquerer of the slopes
Reality: conquered by the slopes
Instagram: pristine, snow-covered winding roads https://instagram.com/p/BBqXAxDD5B8/embed/
Reality: dirty, mud-colored sludge mounds
Instagram: gracefully gliding on the ice
Reality: bruises all over
Instagram: icicles on your roof make your house look like something out of a fairytale
Reality: snot-sicles make you look like something out of a horror story
Instagram: well-dressed in your winter best
Reality: dressed for the weather
Instagram: storybook snowman
Reality: homicidal ice creature
Instagram: wintertime goddess
Reality: hot mess
Instagram: snowball fights with friends
Reality: literally never going outside again