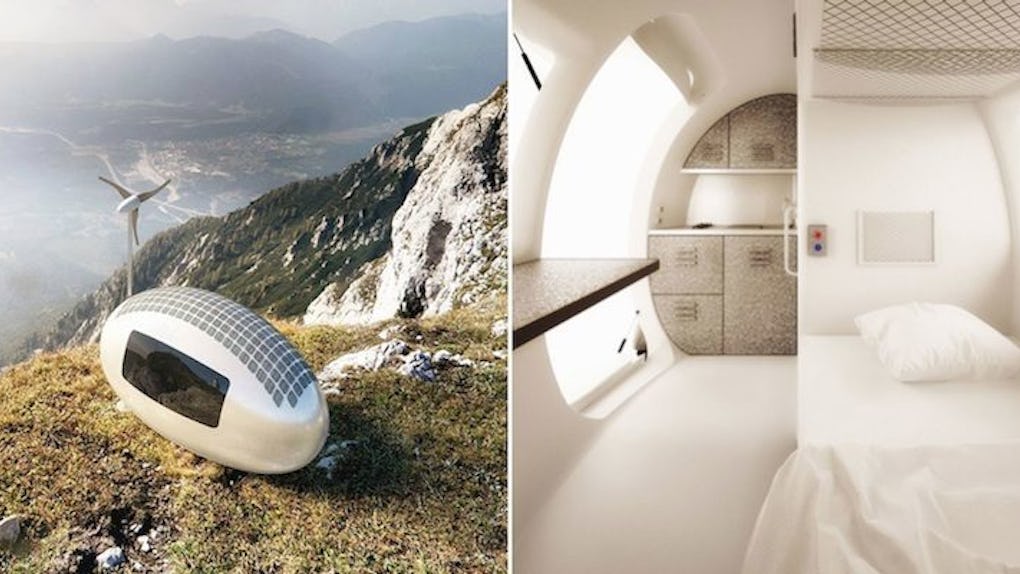 Ecocapsule
You Can Live Virtually Anywhere With This Wind And Solar-Powered House (Photos)
With rent prices in major cities constantly on the rise, we can't help but wonder what it'd take to live comfortably.
You know, a place requiring little to no financial responsibility... A place just as functional as an apartment but comes with less of a headache (or a migraine, rather).
That's where the Ecocapsule comes in handy. The Ecocapsule is perfect for those who constantly experience wanderlust.
Not too long ago, we introduced you to Foster Huntington, an ex-designer who left New York City for the simple life.
He lived out of his van and traveled to different parts of the country, looking for a place to build his dream home.
He could've stopped searching sooner if he had an Ecocapsule.
This futuristic contraption was designed by Nice architects, a Bratislava, Slovakia-based firm.
It's powered by the wind and the sun, and it also collects rainwater. The feature allows the capsule to have running water in the small kitchen and bathroom.
The Ecocapsule is a great way to go off of the grid and live in peace.
It's kind of like living in a portable home!
Interested? The Ecocapsule will be available for pre-order later this year.
As of now, the price for the Ecocapsule is unknown.
The Ecocapsule allows you to live anywhere you want.
Many people living in big cities wish they could get away from everyone.
The Ecocapsule can make it happen.
You can live in the home for up to a year.
The unique design was created by Nice architects.
The Ecocapsule can also serve as a small lodge, a humanitarian unit or emergency housing.
The most valuable part of the Ecocapsule is how easily it can be moved from one location to another.
The Ecocapsule will be available for pre-order toward the end of this year and deliveries will take place in early 2016.
Check out the floor plan below for a closer look.
Citations: Tiny Wind And Solar Powered Home Lets You Live Off The Grid Anywhere In The World (Bored Panda)