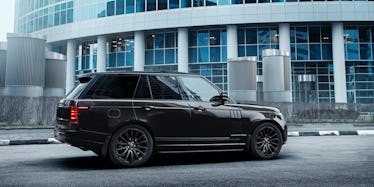 You'll Never Guess Which Demographic Buys Gas-Guzzling SUVs The Most
Shutterstock
You know those big SUVs that rush by you on the highway with no regard for human life? Most of them are purchased by one particular demographic.
According to CarBuzz, SUV sales are skyrocketing as more fuel-efficient sport utility vehicles are introduced to the once struggling marketing. But who's buying them the most? You'll NEVER guess...
Believe it or not, women are actually purchasing more SUVs than men, according to recent data and research by Michigan-based firm MartizCX.
Mainstream small SUV sales to women increased by nearly 34 percent compared to a 22 percent increase in mainstream small SUV sales to men between 2010 and 2015. Within the women purchasing SUVs, 40 percent are single and unmarried.
Premium small SUV sales to women soared by 177 percent over the same 5 years.
But why?
TIME links the increased female-dominant SUV sales to a rise in income and educational attainment and a drop in marriages and child-bearing.
MartizCX reveals,
There's a group of single, professional females out there that need vehicles, and you need to be attentive to them.
It looks like single, professional females gravitate more toward practical, fuel-efficient SUVs rather than sports coupes and luxury sedans.
So far, the top five best-selling SUVs in 2016 are: Toyota RAV4, Honda CR-V, Ford Escape, Ford Explorer, and the Nissan Rogue respectively.
Citations: Sick Of SUVs? Tell Women To Stop Buying Them (CarBuzz)