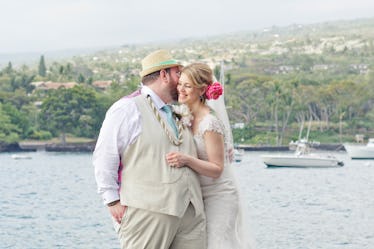 10 Foolproof Tricks To Looking Flawless In Your Wedding Photos
After seven years and upward of 100,000 wedding day photos, I know a few tricks when it comes to looking your best on your wedding day.
Friends and acquaintances are constantly picking my brain to see if I can help them get the most flattering photos possible. And who can blame them? Making couples look photogenic is probably what I do best.
Looking your best on your wedding day requires a recipe — it's equal parts you and your photographer working together.
Yes, your photographer needs to understand the basics of lighting, composition and posing, but you, the subject, are equally important.
Here are 10 tips to looking the best you've ever looked on your wedding day.
Practice in front of that mirror.
You know that one selfie you've plastered on every social media channel?
Figure out the angle of your face in that photo, and practice in the mirror to recreate it. Narcissistic? Maybe. Necessary? Absolutely.
Joke about it.
I know you envy those images on Pinterest — the ones where the newlyweds look so natural and gorgeous, that you actually get enraged because that couple can't be real.
Well, they are real, and you can look like that, too. On your wedding day, tell each other inside jokes — it's a simple way to get that naturally happy look. It's that simple. Bonus points if the joke is dirty!
Close your eyes.
Some of the most beautiful photos I've taken are when the bride and groom aren't looking at the camera… or at anything, really.
A shot where the bride and groom lean on each other and close their eyes gives off a sweet and dreamy vibe. And no, it won't look like you're sleeping — I promise.
Speak up to your photographers.
Photos look awkward when a person feels awkward. If your photographer is making you do something that is SO not you, say something.
We can't read your minds! If you're just not feeling a certain pose, let us know. We'll switch it up ASAP.
Go it alone. 
This one is important (and at times, necessary) to get incredible images — please, please, please keep your family and bridal party away while you take bridal portraits.
You'll be more inclined to relax without having a horde of people hovering over you, snapping photos on their iPhones. This small window of time with just you and your new spouse will lower your stress levels in spades if you can take these shots solo.
Pose for your body.
Every body type is different, and posing yours in certain angles can help accentuate the right curves.
Angling your body slightly off center (with one shoulder a bit closer to the camera than the other) can be incredibly slimming, as can putting one leg in front of the other (to slim the line from hip to ankle). Be sure to refer to tip number one and practice your go-to pose before the big day.
Say cheese — or don't.
To make the most of your wedding photos, make sure you have a variety of expressions.
The most obvious one is to smile, but it's refreshing to see a couple looking a bit more serious in a few shots. You don't have to scowl, but you don't have to fake a smile in every photo, either. And believe me, after three hours of doing nothing BUT smiling, your mouth will thank you.
Come prepared.
Do your homework. Scan Pinterest and find a few images that you absolutely love. It's OK to bring your ideas with you on your wedding day— a lot of photographers are willing to try and replicate an image you're obsessed with.
But do not think that your photo will look exactly like the one that inspired you. So many elements go into an image other than just the couple — there's the location, the wardrobe, the weather — it's nearly impossible to have yours be a perfect replica. And that's OK! You should want your wedding photo to be unique, anyway.
Prioritize your budget.
I know that weddings are expensive — I'm planning my own right now (and weeping while I put down deposits). But I urge you to rethink booking a photographer who is low-quality but offers a cheap deal.
They're inexpensive for a reason, and I can almost guarantee that hiring someone like that will be a big regret post-wedding day. Are there photographers out there who are high quality and inexpensive? Sure, probably. Are they almost impossible to find?
Hell yes. Book someone that takes images you salivate over. You'll most likely salivate over your own images, too.
Stop overthinking it.
I struggle to act naturally in front of a camera lens (I do way better behind one), so I can commiserate with you when I say that having your photo taken can be about as enjoyable as a root canal. Try to relax when you're in front of the camera.
Whisper something sweet in your partner's ear, twirl your hair around your fingers, do anything to give you some small comfort. Take a deep breath. Look at your new spouse. Your photos are going to capture the two of you on the happiest day of your life, and they are going to be perfect.