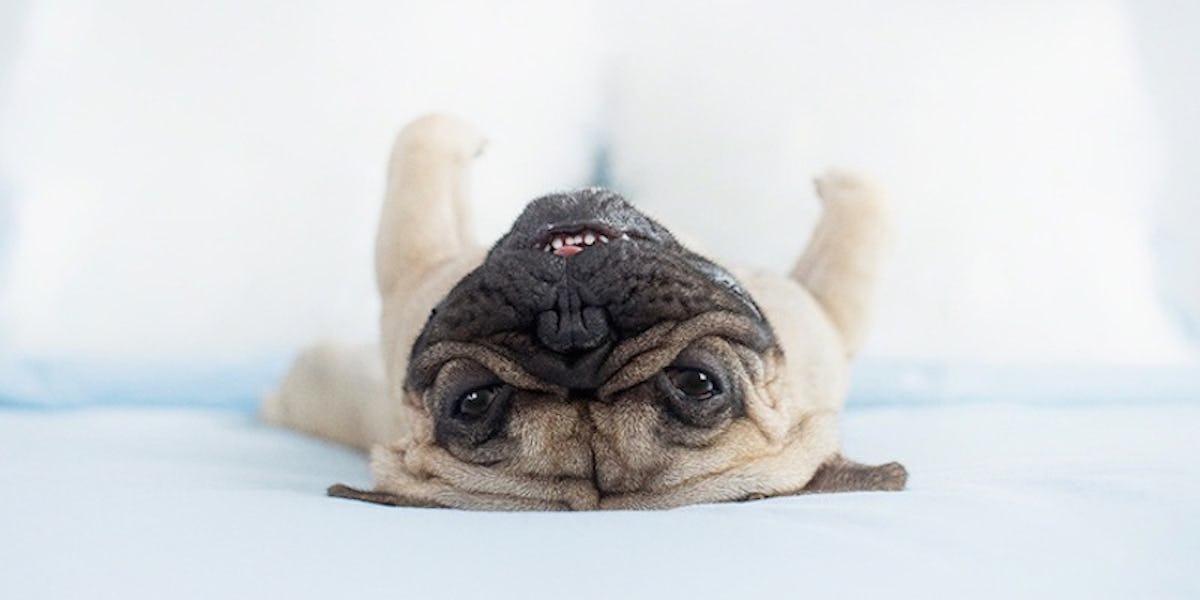 If These Upside Down Portraits Of Dogs Don't Make You Smile, Nothing Will
I've always been a firm believer that, if you have a dog at home, it's pretty much impossible to get bored.
I mean, how could you possibly get bored when these fun, little fur balls are expressing their love for you every second of the day. Whether they're attempting to eat peanut butter (which is absolutely hilarious to watch), or fast asleep, they're quite a joy to be around no matter what they're doing.
Further proving my point is a recent photo series composed by Australia-based photographer Serena Hodson titled, The Upside of Dogs. 
Throughout the series, Hodson explores the fun side of our favorite furry best friends by capturing each of their portraits as they lay upside down. Each portrait makes for a good lazy day meme if you ask me!
Hodson is known for her smile-inducing photography and work with dogs, like this awesome photo series Dry Dog, Wet Dog, which Elite Daily featured this time last year.
Check out the photos below for a closer look.
Who knew looking at pictures of dogs upside down could bring such joy? I mean, look at this little dude!
In a recent photo series composed by Serena Hodson, the Australia-based photographer captures our favorite furry friends from a unique angle.
Hint, hint: they're all upside down!
Don't they look so comfy?
Next time you're looking for a midday pick-me-up, just look at these.
How could you not crack a smile?!
Cheeeeeeese!
The inspiration behind this project came from Hodson's own bulldogs who sleep on their backs.
Did you know that the most comfortable position a dog can sleep in is on his or her back?
This funny-looking position allows dogs to completely relax their muscles, unlike other positions which induce more tension.
That explains why they look so care-free.
Stress? None here...
...or here!
Hodson also composed a similar photo series titled Dry Dog, Wet Dog where she captures photos of dogs before and after baths.
Check out more of her work here!