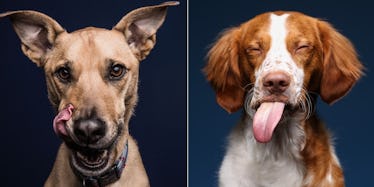 These Hilarious Photos Of Dogs Eating Peanut Butter Will Brighten Your Day
Who knew dogs and peanut butter could be such an amazing combination?
In a recent photo series composed by Greg Murray, the Cleveland-based photographer works with over 100 furry friends and countless jars of peanut butter.
The series, which is incredibly hard not to smile at, features dogs from all over the the country smacking their peanut butter-covered lips.
Murray, who's been voted the best pet photographer in Cleveland, stumbled upon the idea to craft "For the Love of Peanut Butter" about two years ago.
In a recent email interview, Murray tells us,
My fiancé Kristen and I had a rescue Mastiff named Bailey. I loved getting pictures of her with her tongue out and her typical drool. I found the best way to do that was to give her a little bit of peanut butter. She unfortunately passed a few months after that photo was taken.
Bailey's spirit is kept alive by this unique series that Murray plans to transformed into a book. As a matter of fact, a Kickstarter page has been created for the book, which has managed to rack up over $11,000 in crowdfunding.
Check out the photos below for a closer look!
Bernie
Frankie
Gus
Hall & Oates
Huckleberry
Kingston
Leo
Mama Gris Gris
Mocha
Poe
And lastly, meet Bailey, Greg Murray's main inspiration behind the series: