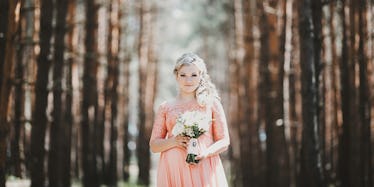 These Brides Prove A Colored Wedding Dress Is The Best Way To Break Tradition
Shutterstock
When it comes to weddings, some brides-to-be are all about embracing the traditions of that special day. I'm not going to lie; walking down the aisle in a white wedding gown looks simply stunning.
Picking out your wedding dress should be one of the most exciting decisions for your wedding day. After all, all eyes will be on you, and you'll have tons of pictures in it to enjoy forever. You want to look absolutely fabulous for your partner. Whatever you decide, your overall look should be timeless.
The styles and colors for wedding gowns today are seriously endless. When it comes down to decision time, you'll probably be asking yourself this question: Are you a traditional kind of girl, or a girl who wants to switch things up?
Hopefully these gorgeous colored wedding dresses will set your mind at ease and make the decision easy. Enjoy the inspo to break tradition, and go for a colored wedding gown! It's your day, your choice. Your dress will set the tone.
You will look like an absolute princess dressed in pastel.
A colorful bouquet can make a bold statement next to a glamorous wedding dress like this…
...and your partner will fall in love with you all over again.
You're the queen of the day, so anything goes...
...especially gold sequins from head to toe.
A pink tulle gown is such a show-stealer, complete with an embellished top.
Glitz and glam it up in lavender and sparkles...
...and lace it up because you can.
You can always incorporate white into your look at the top part of your gown...
...or go all out with blue in a stunning number with an open back.
You'll certainly be the belle of the ball in this light pink wedding gown with floral accents.
Let's be real: You certainly can't go wrong in blush pink.
Whatever you do, choose the right gown for you, and have fun with it.