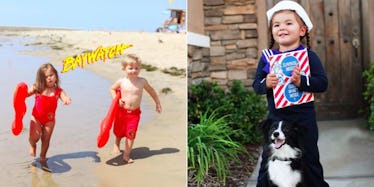 Absolutely Adorable 3-Year-Old Kills The Halloween Game All October Long (Photos)
Before you know it, it'll be time to get your Halloween costume on and spook the world.
If you haven't yet figured out what or whom you're dressing up as, feel free to take some pointers from a little girl named Willow. Willow is the daughter of California-based photographer Gina Lee.
Lee, who specializes in both child and family photography, received a lot of attention for the work she's done with Willow throughout the month of October.
Willow gets all dressed up every year throughout the month to celebrate Halloween in style, and her mom snaps priceless photos of the toddler for Instagram.
The end result? Pure gold!
Willow dressed up as everyone from Pamela Anderson on "Baywatch" and an In-N-Out employee to the Duchess of Cambridge aka Kate Middleton (accompanied by a miniature version of Prince William).
If you're running out of ideas for this year's Halloween costume, you've come to the right place!
Check out the photos below for a closer look.
Meet Willow, a 3-year-old Instagram sensation making headlines for her creative Halloween costumes.
I say "costumes" because she doesn't just wear one costume on Halloween. She dresses up all October long!
Gina Lee, Willow's mom, has been dressing her daughter up in all sorts of awesome costumes ever since Willow was a baby.
Willow kicked off #DressUpWillowMonth this year by dressing up as a little old lady from Pasadena, California.
She's even done Wayne from "Wayne's World"...
...and Inspector Gadget!
Willow's Halloween costumes have no boundaries or limits. Here she is as a helpful Honda assistant!
Other costumes include the Cracker Jack mascot...
A Mouseketeer...
A Clinique sales associate...
...and even Ms. Frizzle from "The Magic School Bus"!
Keep up with Willow's costume updates by following @GinaLee on Instagram!
Citations: A Little Girl Named Willow Is The Undisputed Costume Queen Of Halloween (BuzzFeed)