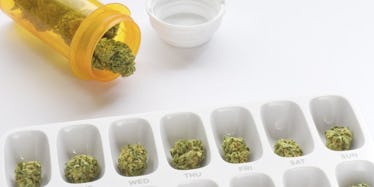 Going Legal: 5 Tips To Help First-Timers Get Their Medical Marijuana Cards
Shutterstock
With medical cannabis being legal in almost half of the country now, there are always questions regarding how one would go about obtaining a medical marijuana card.
It may seem a bit intimidating at first, but you'd be relieved to know anyone consuming marijuana legally in over 20 states had to go through the same process.
Besides, what could be more intimidating than meeting some sketchy dude on a bike in an alley somewhere as if you're still living in the pre-legal days?!
We here at Stoned Girls are pretty well-versed on the subject and are here to help!
Here are five tips to keep in mind when looking to get your medical marijuana card. You can thank us later!
Brush up on the legal stuff.
First, it is important to be familiar with the medical laws in your state.
Once you know you can legally purchase medical marijuana where you live, look up the specific laws that govern the industry so you can make sure you are always staying compliant.
Find a reputable doctor.
Next, find a doctor who can help you get your medical marijuana (MMJ) card.
This is as simple as looking on the Internet. You can search for doctors near you, but we also recommend checking out some online forums for advice and recommendations. The MMJ community is a tight one, and it looks out for the people in it.
Once you find your doctor, schedule an appointment. He or she will be able to answer any questions you might have regarding your condition and medical cannabis.
Make sure you feel comfortable before leaving the office.
Find a good dispensary.
After you obtain your card, you have to find a dispensary near you.
In some states, like California, this is pretty easy. There are plenty of websites, like Leafly, that will help you find the dispensaries and strains nearest to you.
However, in some burgeoning MMJ states, like Nevada, your dispensary choice may be limited for right now. If you can't find one close enough to you, plan to take a trip.
In addition, always remember many states have a program where they will accept out-of-state MMJ cards, so your closest dispensary might be one state over.
Going into a dispensary for the first time can be daunting. Luckily, the employees of these establishments are well-trained, and can guide you through the process.
Don't be afraid to communicate with bud tenders.
When you arrive, the bud tenders will make sure you have all of the necessary documents (mainly your MMJ card and a valid ID). Then, they will help you pick out which strains are going to be best for your condition.
They will also make sure you stay legal, as they are being monitored by the government heavily as well.
Enjoy the pleasures of consuming legally.
After you purchase your legal medical cannabis, go home and get some relief. The hard part is behind you.
We certainly hope this helped, and always remember everyone in this industry is more than happy to provide guidance, so never be afraid to ask questions!
This post was originally written by Rebecca Hourselt for Stoned Girls.