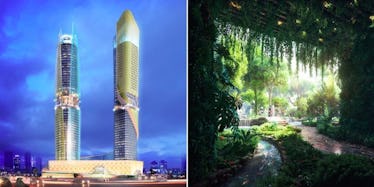 There's A Hotel In Dubai With A Rainforest In The Middle, So Start Saving
Design by ZAS Dubai - Images by Plompmozes
There's no place in quite like Dubai.
From stunning skyscrapers that soar above the clouds to streets bustling with camels and supercars, Dubai is like a magical oasis where anything is possible.
I mean, seriously, where else can you find ski resorts in the middle of the desert, princes with pet lions, palm tree shaped islands and floating villas that let you sleep under the sea?
If you thought Dubai already had every opulent thing you could possibly imagine, think again.
There's a new ultra-luxe hotel coming to Dubai in 2018 that's going to be the world's first hotel with a rainforest inside of it.
Yes, you heard me correctly, A RAINFOREST.
Designed by the architectural company ZAS Architects, the new Rosemont Five Star Hotel & Residences, the $300 million building will feature two 47-story towers that consist of 450 guest rooms, 280 private residences and a five-story podium that houses an epic manmade rainforest complete with all the jungle essentials.
If casually hanging out in a rainforest surrounded by desert doesn't sound entertaining enough for you, don't worry. This insane hotel will also have other bougie amenities such as a sky-high infinity pool, a spa, a bowling alley and a trampoline park.
So yeah, I guess it wouldn't be so bad to rough it at this place on your next Dubai vacation.
Check out the pictures below for a closer look at this over-the-top hotel.
If you thought Dubai was already home to the coolest things on the face of the planet...
...you clearly haven't heard about the new hotel coming to this desert city in 2018.
The architectural company ZAS Architects just finished designing the new Rosemont Five Star Hotel & Residences...
...and this bougie $300 million building is going to be the first hotel in the world that has a rainforest inside of it.
At the base of the building, you'll find a five-story podium that's filled with a mesmerizing manmade rainforest complete with exotic plants, spray mist, a beach and a splash pool.
But the amenities don't stop there.
This luxurious hotel will also feature fine dining restaurants, a lounge, a spa, a bowling alley, a trampoline park...
...and a gravity-defying infinity pool that hangs over the edge of the building.
So it's going to basically be impossible to get bored at this ridiculously awesome hotel.
Citations: he world's first hotel with a RAINFOREST: Dubai's new £230million towers will have a man-made jungle, artificial beach and stunning 'sky pool' (Daily Mail)