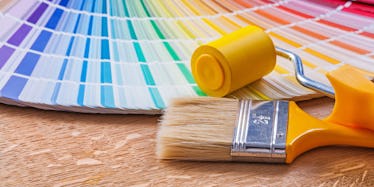 You'll Never Guess How The World's Ugliest Color Is Being Used To Save Lives
Shutterstock
When you think of the world's ugliest color, what's the first color that comes to mind?
For some, it may be a really shitty-brown and for others, it could be more of a booger-green. The fact of the matter is, the world's ugliest color isn't just any color.
Drumroll, please...
According to Visual News, a group of researchers at GfK Global deemed "Pantone 448 C" the world's ugliest color. The color has been described as "dirty," "death," and "tar." One look at this color and I completely agree.
You be the judge...
So, what good is a color that makes everyone want to literally puke at the sight of it?
Well, it turns out such a tragic scene can be used to save lives. The marketing agency worked closely with the Australian government to find a terrible color that would cause cigarette smokers to think twice about their life-threatening habit.
After three long months, they finally nailed it by placing Pantone 448 C on cigarette packs next to health warnings.
Similar to Australia, the governments of the United Kingdom, Ireland, and France all have "plain tobacco packaging" laws requiring all tobacco manufacturers to use a designated color when packaging their products.
The law was enacted in Australia back in 2012 as a strategy to dissuade and decrease tobacco use.
Here's an example of a cigarette pack bearing the world's ugliest color and health warnings:
Now, run to the nearest restroom and wash your eyes out... Save yourself from the painful Pantone 448 C!
Citations: This Is The World's Ugliest Color (Visual News)